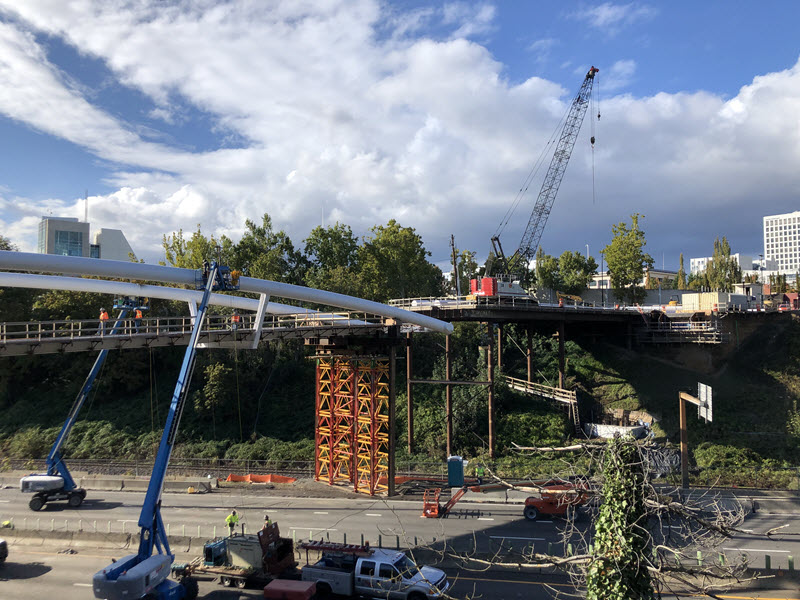 Joan & Aaron are joined by friend Kimber to watch part of the installation of Portland's new Congressman Earl Blumenauer Bicycle and Pedestrian Bridge. We chat with a few fellow spectators, project our own fears and anxieties onto the crane operators, and admire Earl's aubergine bike from afar.
FinePrint
Produced at home thanks to:
music: Ryan J. Lane (intro & outro) & Hurtbird (headlines)
graphic design: Marcus Norman
web: http://thesprocketpodcast.com
email us: thesprocketpodcast@gmail.com
phone/SMS: 503-847-9774
Twitter & Instagram: @SprocketPodcast
Donate: Patreon (ongoing), Venmo (one time) or Square Cash (one-time)
Thanks to our sustaining donors for supporting our show costs:
Shadowfoot, Wayne Norman, Cameron Lien, Richard Wezensky, Tim Mooney, Glenn Kubish, Eric Weisz, Doug CohenMiller, Chris Smith, Caleb Jenkinson, JP Kewley, Peanut Butter Jar Matt, Marco Lo, Rich Otterstrom, Drew the Welder, Anna, Andre Johnson, Richard G, Guthrie Straw, Kampcite, Aaron Green, Mac Nurse David, Jeremy Kitchen, David Belais, Tim Coleman, Harry Hugel, E.J. Finneran, Brad Hipwell, Thomas Skadow, Keith Hutchison, Ranger Tom, Joyce Wilson, Ryan Tam, Jason Aufdenberg, Todd Tillinger, David Moore, Todd Groesbeck, Chris Barron, Sean Baird, Simon Paice, Gregory Braithwaite, dudeluna, Emma Rooks, Philip M, Lillian Karabaic, Spartan Dale, Josh Myles, Dennis O'Brien, Sarah G, Adam D, Go Dig A Hole, Beth Hamon, Greg Murphy, Mayra M, Oso, Isaac M, David C, Byron Paterson, Kurstin Graham, Erinne G, Rachel Moline, Jimmy Diesel, Christopher Barnett, Jonathan Lee, and Hami Ramani.
Podcast: Play in new window | Download