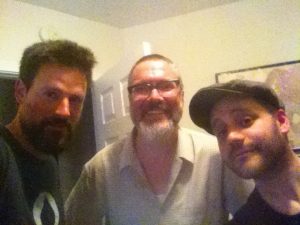 Vincent Caldoni sits in for Brandon while he's gone, and we are joined by resident historian of ORhistory.com Doug Kenck-Crispin to discuss Oregon's early adoption of bicycles into many parts of life, and how the past informs the present.
Brock's 30th birthday party is coming up at Cartlandia: Best Bands Ever 2012, a free music festival!
Bike Safe Portland wallet-sized accident reports are available now in Portland bicycle shops near you!  Thanks to Josh Zisson from Bike Safe Boston and the Bike Safe Nation project.
The Sprocket Podcast is now available on Stitcher smart radio!  If you use the service, you can add us to your programming roster.
A list of Brock's sources for the history discussion:
Eric Lundgren on Governor Geer
Eric Lundgren on Bemer Pague & Portland's early cycle paths
Sheldon Brown defines: Scorcher
Eric Lundgren's detailed essay on early Portland bicycling
Stewart Holbrook's "The Three Sirens of Portland"
Jonathan Maus reports on author Sue Macy's presentation of early women bicyclists
her book: Wheels of Change: How Women Rode the Bicycle To Freedom 
Jonathan Maus compares 1890s & 2000s fixed gear riders
Headlines
RowdyKittens & The Path Less Pedaled on L.L. "Stubb" Stewart State Park
BikePortland celebrates the return of Portland OR to the #1 city for cycling
Mailbag
Anonymous: http://gutterparty.com/no-2/
Carl from CA: "Hey guys – just bumped into this on the inter webs on the FB… AN XTRACYCLE  SIDE CAR! Imagine tour with this rig?."
Blayne from BC: "Thanks for the re-tweets for my blog [http://thecynicalcyclist.blogspot.com/]. Summer can't get here fast enough. I am preparing for my first solo trip, a four day trip on Northern Vancouver Island, later in August. If any Sprocket listeners are vacationing on Vancouver Island this summer I would love to hear from you. Contact me through my blog. Have a great summer and "Find Adventure."
Dan in MN in response to the Disaster Relief Trials sponsored by TRANSPORTland: "When I worked in public health I had asked the EMS program if they would consider getting on bicycles. Getting them on bicycles to respond a first responder situation quicker and easier."
Donations from Blayne in BC & JohnnyK in FL! Thanks!  If you'd like to donate, you can do so using the donate button in the right-hand sidebar.
Fine Print
email us: thesprocketpodcast@gmail.com
twitter: @SprocketPodcast
phone in or SMS: 503-847-9774
web: http://thesprocketpodcast.com
music: Ryan J. Lane (intro & outro) & Hurtbird (headlines)

Podcast: Play in new window | Download