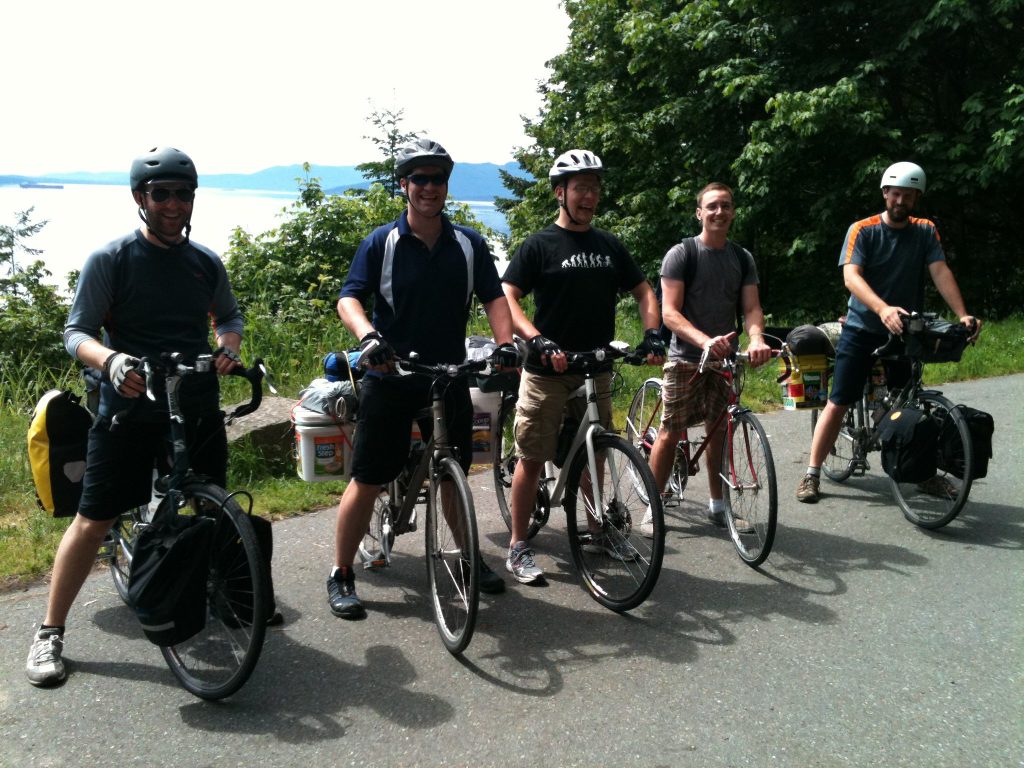 L-R: Jeff, Joe, Ian, Jason, and Brock
Brandon hosts a conversation with Brock and his friends Joe, Jeff & Ian about their recent brewery tour by bicycle along the Pacific Northwest I-5 corridor.
The World Naked Bike Ride in Portland OR, "I was in the pool!", Jonathan Maus wearing nothing but a camera bag, furiously doing nothing, the New Old Lompoc, Bridgeport Brewery's Hop Czar, two-stroke engines in our neighborhood, Brock introduces the beer, Barleywine and Brandon's brewing of the 21-15, too much fun with beer pouring, Brandon's wedding gift pint glasses, the breweries:
Bellingham WA's Boundary Bay Brewing,
Mount Vernon WA's Porter House,
Mount Vernon WA's North Sound Brewing and Cherry Wheat beer,
Mukilteo WA's Diamond Knot Brewing,
The slightly corporate RAM brewery,
Seattle WA's Big Time Brewing,
Seattle WA's Elysian Fields,
Seattle WA's Georgetown Brewing,
Tacoma WA's Harmon Brewing,
Olympia WA's Fish Brewing,
Centralia WA's Dick's Brewing and taking a three hour break, Portland OR's Hopworks Bikebar,
Portland OR's The New Old Lompoc,
Brock's wife Adele joins us in Kalama, loafing at Jeff's house and eating food, beatboxing the good life, Ian joins the conversation, "the motherbuckets," Chuckanut Drive, Oskar Blues' Old Chub, fire building at Washington state's Lewis & Clark State Park, Big Time'sAve Rat malt liquor, the Georgetown Brewing experience, brewhand Harlow was awesome, carrying Lucille, Olympia's Woodland Trail, bow-chicka-wow-wow, Jeff's motivational phrase, Brandon's motivational phrase, riding on the freeway, Nada Surf'sBlankest Year, first time cycle touring wisdom, Jeff bakes 40 gluten-free granola bars, Joe breaks his belt and then decides to lose weight
Drinks
all enjoy a Hopworks Urban Brewery 64oz glass bottle of IPA divided evenly beween them, with great relish and to hilariously deleterious effect.
Music
"Making Sense" from Joe's 2009 EP The End.
Fine Print
email us: thesprocketpodcast@gmail.com
twitter: @SprocketPodcast
phone in or SMS: 503-847-9774
web: http://thesprocketpodcast.com
music: Ryan J. Lane (intro & outro) & Hurtbird (headlines)
Podcast: Play in new window | Download