This week's episode combines an interview from 2011 with bike builder Tom, who used to run Tom's Cargo Bikes, and a few conversations with EJ & Eric, previous owners of his craftsmanship from 2020.  Producer Brock currently owns and rides #53 (lamplighter tall) & #95 (EJ's bakfiets).  Eric's cargo swingbike is currently in the custody of the Corvidae Bicycle Club.
We're looking forward to bringing you another new studio show soon!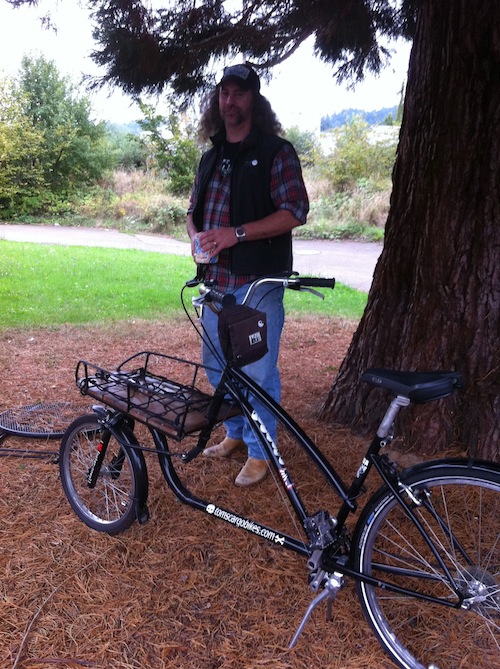 Tom's Cargo Bikes built all kinds of conveyances from repurposed bicycle frames in style and with finesse.  Tom gave us the rundown on how he got into this pastime, how he cut his chops on the skills necessary, and what he's done with the bikes he builds. His website is no longer active, but you can follow the hashtag #tomscargobikes to see some of the bikes out in the world, and view many of his creations on his Flickr page.
We discussed individual builds, growing up in Montana and fixing up muscle cars, moving to the city and getting out of regular car use, massive snowstorms, cargo bikes at Alaska Air, learning the terminology, 50 bikes built, Spin Art Bike, Yolo Colorhouse, blender bike, the Xtracycle,Multnomah County Bike Fair, Bikes for Humanity, bake feets, proprietary steering systems, "it's all in beta," marshmallow roasting, bass player uses cargo bike, Dutch sperm cargo bike, an unwitting bidding war, Tom's Portland hotel bike serves beer & coffee, and environmental pragmatism.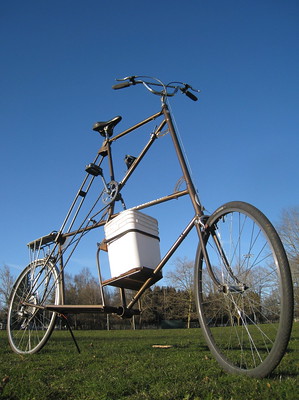 Thanks to our nationally recognized "top beer bar in Oregon" beverage sponsor, The Beer Mongers, now open for more than 4,000 days consecutively. They have a patio outside the place and, if you're lucky, you might be able to catch some sports with sound.  The big stick remains indoor on the ceiling.  And, as always, thanks to our generous Patreon donors that keep us going!
Fine Print
Produced at home thanks to:
music: Ryan J. Lane (intro & outro) & Hurtbird (headlines)
graphic design: Marcus Norman
web: http://thesprocketpodcast.com
email us: thesprocketpodcast@gmail.com
phone/SMS: 503-847-9774
Twitter & instagram: @SprocketPodcast
Donate: Patreon (ongoing), Venmo (one time) or Square Cash (one-time)
Thanks to our sustaining donors for supporting our show costs:
Shadowfoot, Wayne Norman, Eric Iverson, Cameron Lien,Richard Wezensky, Tim Mooney, Glenn Kubish, Matt Kelly, Eric Weisz, Todd Parker, Chris Smith, Caleb Jenkinson, JP Kewley, Peanut Butter Jar Matt, Marco Lo, Rich Otterstrom, Andrew in Colorado, Drew the Welder, Anna, Andre Johnson, Richard G, Guthrie Straw, Kampcite, Aaron Green, Mac Nurse David, Nathan Poulton, Rory in Michigan, Jeremy Kitchen, David Belais, Tim Coleman, Harry Hugel, E.J. Finneran, Brad Hipwell, Thomas Skadow, Keith Hutchison, Ranger Tom, Joyce Wilson, Ryan Tam, Jason Aufdenberg, Microcosm Publishing, David Moore, Todd Groesbeck, Chris Barron, Sean Baird, Simon, Gregory Braithwaite, Ryan Mauro, dudeluna, Matthew Rooks, Marshall, Lillian Karabaic, Paula Funatake, Spartan Dale, Bike Initiative Keweenaw, Sarah G, Adam D, Go Dig A Hole, Beth Hamon, Greg Murphy, Mayra M, Oso, Isaac M, David C, @Five.Oh.Three, Byron Paterson, Kurstin Graham, and Erinne G.
featuring excerpts from "Heaven Sent" by Cush from their 2000 LP "The New Sound. Find this excellent record at www.northernrecords.com; Published by Songs of Media Creature (BMI) a/c Northern Records Music (BMI) and Media Creature Music (ASCAP) a/c Northern Rock N Roll (ASCAP); Courtesy of Northern Records by exclusive arrangement with Media Creature.
Podcast: Play in new window | Download