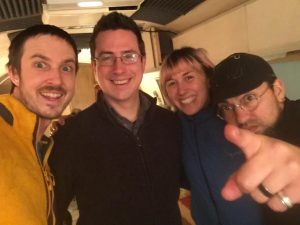 Ashley Lance & Phil Barber are friends of planned guest Tonya (who will be on soon) with some stories.  Ashley & her partner Daniel take a tour in Italy (we also talked to them about their Cuba tour), while Phil rides the coastal forest, leads rides themed around disaster, and both of them are helping to plan the Worst Day of the Year Ride though their work with Events by Axiom.
Also: Aaron is now in the Tiger Blood stage of his #Whole30 diet.
Calendar
2nd Friday of Every Month Boston Bike Party
Also 2nd friday of Every Month Indianapolis Bike Party
Every 2nd Sunday of every month Corvidae Bike Club Ride
Jan 28: Ovarian Psycos @ the Hollywood Theater (find other screenings on their facebook page)
Feb 3: Caddyshack! ride
Feb 11: worst day of the year ride
Feb 24: Menagerie in Motion Kinetic Derby Gainsville, FL
Sept. 22: Lowell Kinetic Sculpture Race Lowell, MA
UPCOMING Filmed By Bike TOUR DATES:
Boise, ID – February 8, 2018
Aarhus, Demark – March 3, 2018
SXSW, Austin, TX – TBD around March 9-12, 2018
Copenhagen – March 10, 2018
Albany, NY – July 22, 2018
Seattle, WA – TBD
Vancouver, WA – TBD
Arcata, CA – November, 2018
Bendigo, Australia – October, 2018

Headlines
Aqua makes a splash with friends on bikes!
Aaron's home county does some good via Anna:
Re-Bicycle Lenawee is a non-profit community-run bike shop in Adrian, MI
From bikebiz.com via Anna
Cyclists With IPods Hear The Same As Motorists Listening To Nothing
Mail
Todd S: How to ride/tour with a beginner
From Todd G in DC "a link to my website!"
From robert R on lights
Also on lights Drew "the Welder"
EJ chimes in about Congestion Pricing: a good TED talk on the topic
"The second, and maybe more important, part of the story is that they completed a 10 year survey of health impacts in 2016. Asthma rates among children dropped dramatically."
Lastly, Ethan Georgi made a ringtone
Also, listeners can go to https://tinyurl.com/swingbikeringtone to download an iphone ringtone & an mp3 for anybody else.
Fine Print
Produced at STREAM PDX thanks to Open Signal
music: Ryan J. Lane (intro & outro) & Hurtbird (headlines)
graphic design: Marcus Norman
web: http://thesprocketpodcast.com
email us: thesprocketpodcast@gmail.com
phone/SMS: 503-847-9774
Twitter & instagram: @SprocketPodcast
Donate: Patreon (ongoing) or Square Cash (one-time)
Thanks to our sustaining donors for supporting our show costs:
Logan Smith, Shadowfoot, Kathrina Mellemgaard, Wayne Norman, Doug Robertson, Ethan Georgi, Justin Martin, Eric Iverson, Cameron Lien, Richard Wezensky, Tim Mooney, Glenn Kubish, Matt Kelly, Eric Weisz, Todd Parker, Dan Gebhart (who's a time traveler), Dave Knows, Chris Smith, Christi Caister, Caleb Jenkinson, JP Kewley, Peanut Butter Jar Matt, Marco Lo, Rich Otterstrom, Andrew in Colorado, Drew the Welder, Anna, Jon Wasserman, Andre Johnson, Josh Zisson, Richard G, Guthrie Straw, Kampcite, Aaron Green, Mac Nurse David, Nathan Poulton, Chris Rawson, Rory in Michigan, Michael Flournoy, Jeremy Kitchen, David Belais, Tim Coleman, Mr. T, Harry Hugel, E.J. Finneran, Brad Hipwell, Thomas Skadow, Keith Hutchison, Ranger Tom, Joyce Wilson, Ryan Tam, Derek Waggoner, Jason Aufdenberg, Microcosm Publishing, David Moore, Todd Groesbeck, Chris Barron, Sean Baird, Simon, Gregory Braithwaite, Ryan Mauro, Jimmy Diesel, dudeluna
Podcast: Play in new window | Download