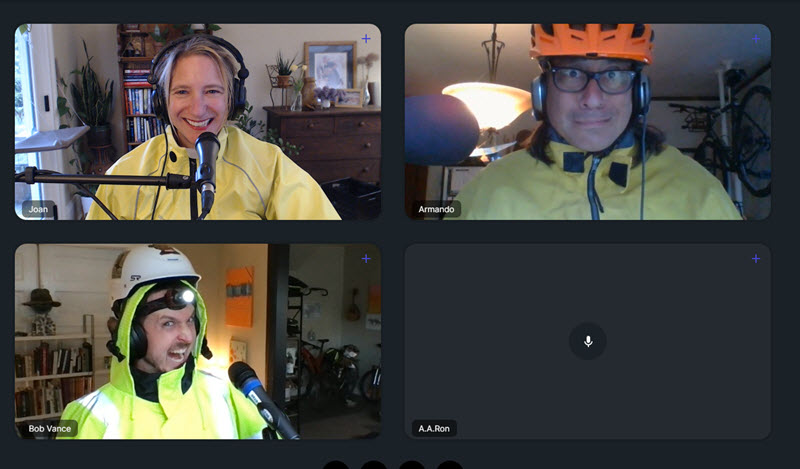 Do helmets protect our heads in bike crashes or make it more likely we'll get into a crash? Do high viz clothes and gear actually make us more visible to people driving cars? Why do we spend so much time talking about helmets when better infrastructure would make us safer than helmets ever could? We don't know the answers to any of these questions, but that didn't stop us from talking about them! Aaron, Armando, Guthrie, and Joan chat safety culture in the bike world.
The Stuff We Talked About
Via Twitter user @cathasach4bikes: 
"Regular reminder that no one makes helmets for Black girls' everyday hair. This means that Black girls are disproportionately excluded from bike safety classes that require helmets. This should be the real helmet discussion."
"Bike helmets – a dangerous fixation? On the bike helmet's place in the cycling safety discourse in the United States"
Applied Mobilities, by Gregg Culver
"How US helmet laws are used against cyclists of colour and homeless people"
From the Guardian, April 20: "In Seattle, 43% of citations since 2017 have gone towards homeless people, while Black cyclists received citations at nearly four times the rate of white cyclists"
"Why It Makes Sense to Bike without a Helmet"
"…if we start looking into the research, there's a strong argument to be made that wearing a bike helmet may actually increase your risk of injury, and increase the risk of injury of all the cyclists around you."
FinePrint
Produced at home thanks to:
music: Ryan J. Lane (intro & outro) & Hurtbird (headlines)
graphic design: Marcus Norman
web: http://thesprocketpodcast.com
email us: thesprocketpodcast@gmail.com
phone/SMS: 503-847-9774
Twitter & Instagram: @SprocketPodcast
Donate: Patreon (ongoing), Venmo (one time) or Square Cash (one-time)
Thanks to our sustaining donors for supporting our show costs:
Shadowfoot, Wayne Norman, Cameron Lien, Richard Wezensky, Tim Mooney, Glenn Kubish, Eric Weisz, Doug CohenMiller, Chris Smith, Caleb Jenkinson, JP Kewley, Peanut Butter Jar Matt, Marco Lo, Rich Otterstrom, Drew the Welder, Anna, Andre Johnson, Richard G, Guthrie Straw, Kampcite, Aaron Green, Mac Nurse David, Jeremy Kitchen, David Belais, Tim Coleman, Harry Hugel, E.J. Finneran, Brad Hipwell, Thomas Skadow, Keith Hutchison, Ranger Tom, Joyce Wilson, Ryan Tam, Jason Aufdenberg, Todd Tillinger, David Moore, Todd Groesbeck, Chris Barron, Sean Baird, Simon Paice, Gregory Braithwaite, dudeluna, Emma Rooks, Philip M, Lillian Karabaic, Spartan Dale, Josh Myles, Dennis O'Brien, Sarah G, Adam D, Go Dig A Hole, Beth Hamon, Greg Murphy, Mayra M, Oso, Isaac M, David C, Byron Paterson, Kurstin Graham, Erinne G, Rachel Moline, and Jimmy Diesel.
Podcast: Play in new window | Download