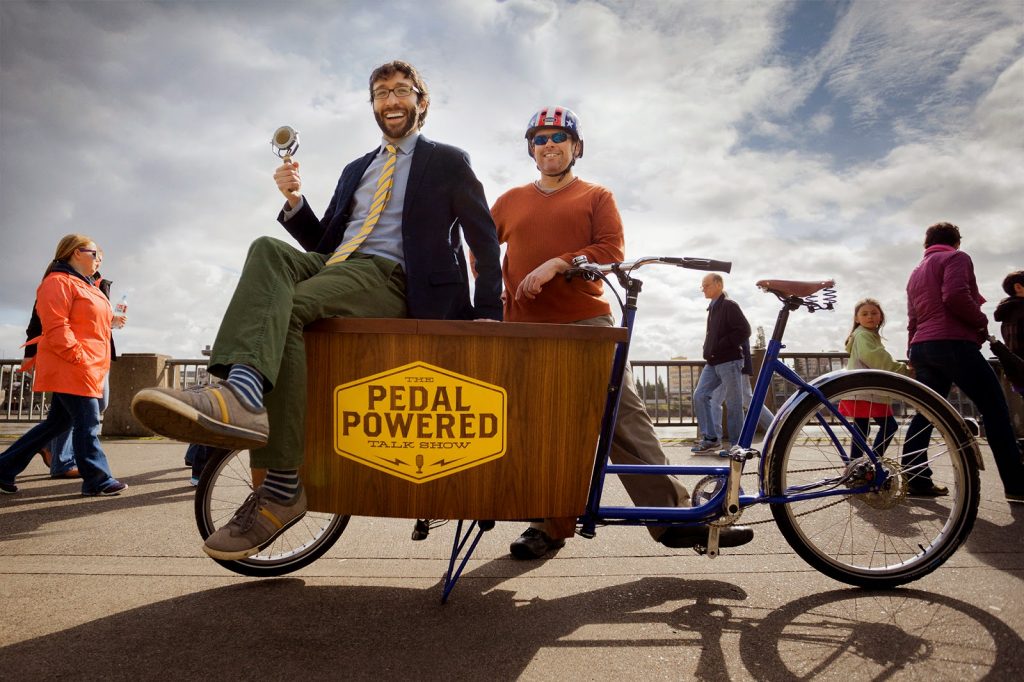 photo by Clay Nowak
Boaz Frankel is the host of the Pedal Powered Talk Show, a short form series that features interesting and unique personalities from around Oregon; he also once set therecord for the most high fives given in an hour, and took a non-motorized "un-road trip" across America.
Phillip Ross is the owner and founder of Metrofiets, the company that designs and builds classy US made cargo bikes for utility and fun.  He's the power behind the pedals for the Talk Show!
We discuss the Pedal Powered Talk Show, now in Season 3!  A little about the Metrofiets Desk Bike, how the show works (or doesn't, in the case of their recently revealed crash story), traveling to Eastern Oregon and an appeal to Portlandia!
Also:
Pedal powered talk show season three launch party
tickets now available for Aftermass
Gladys Bikes is moving by bike!
Headlines
BikePortland: Domino's Pizza gets a cargo bike
I Love The Bus: A Lesson in Letting Go
Mail
Justin is our newest regular donor, thanks a bunch!
Bryce is listening to the backlog and sends a link to Ron Dickinson's tour blog.
Roger shares Tom Allen's new Guide to Cycle Touring!  For all the "gear heads" out there.
Phil from AK: Fatbikes!
Glenn from YEG taped our show intro outside the Clinton Street Theater, and made a nice little wrap up video of his trip to Portland!
Shadowfoot found a picture of a tallbike.
Eric had an #ELF sighting in DC during this morning's ride to work.
Fine Print
email us: thesprocketpodcast@gmail.com
twitter: @SprocketPodcast
phone in or SMS: 503-847-9774
web: http://thesprocketpodcast.com
music: Ryan J. Lane (intro & outro) & Hurtbird (headlines)
Thanks to our sustaining donors for supporting our show costs:
Logan Smith
Shadowfoot
Kathrina Mellemgaard
Roger Grigsby
Wayne Norman
Doug Robertson
Ethan Georgi
Justin Martin

Podcast: Play in new window | Download