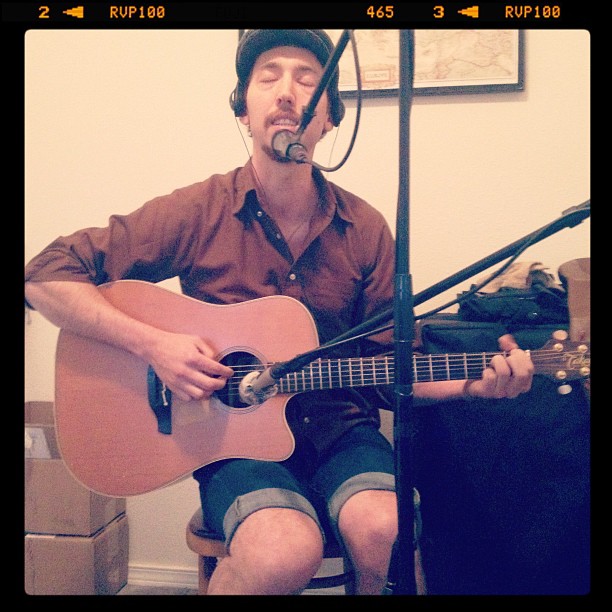 Ryan J Lane is a musician, photographer, deep thinker and all-around good guy.  As the creator of our show's theme music, we wanted to have him in to discuss what simple living looks like to him, and also have a chance to hear him play some songs live in our studio!  We talk about giving recordings away for free, his bicycling experiences, his career as an independent photographer, the advent of iphone photography, and the philosophic and theological discussions in Tolstoy's writings on faith, simpler living and life change.
Brock's 30th birthday party is coming up at Cartlandia: Best Bands Ever 2012, a free music festival!
Bike Safe Portland wallet-sized accident reports are available now in Portland bicycle shops near you!  Thanks to Josh Zisson from Bike Safe Boston and the Bike Safe Nation project.
The Sprocket Podcast is now available on Stitcher smart radio!  If you use the service, you can add us to your programming roster.
Headlines
TRANSPORTland: my grandma was a cargo bike rider
NW Farms & Food: what weeds can tell you about your garden
LiveLeak.com: chinese dog acts as sentinel against bicycle theft
STV: Scottish thief returns bicycle to owner with chocolate bar and apology note
Mailbag
Patrick in Davis CA: "Hello Brock and Brandon, continue to love the Sprocket Podcast, keep up the good work. Wanted to respond to last weeks show regarding voting in national elections. I feel it's very important to vote in both local and national elections. The current Tea Party controlled house is an excellent example of why elections matter. Important funding for transportation, research and other important social issues has dissipated. Replaced by old social issue battles that we all thought were over.  I happen to be running for City council this year. It's been a very educational experience. One issue that may interest you is how local businesses enjoy bike tourists and weekend riders."
Josh in Cully, PDX: "Heard of anyone Railbiking in Oregon? Quite a few abandoned railroads in OR.  Best thing I've heard about Charlie Hales is that he wants to turn an abandoned rail into a trail from the city [of Portland] all of the way to the coast.  It's hard to imagine how successful it would be for tourism if you could fly/ train into the city and get all the way to Astoria (great coast city) without being on a road at all."
Chris in Arcata CA: "Just a heads up.  I ordered some swrve stuff.  The cotton skinny knickers, and the milwaukee ES jacket. Great products !  Wanted to mention that some products are made in LA.  They also make some products overseas.  My knickers have a made in USA tag on them.  Talked with them over the phone a few times.  Very friendly they sound like a good small crew of folks!  My Levi commuters have a happy place with me though as well."
Fine Print
email us: thesprocketpodcast@gmail.com
twitter: @SprocketPodcast
phone in or SMS: 503-847-9774
web: http://thesprocketpodcast.com
music: Ryan J. Lane (intro & outro) & Hurtbird (headlines)



Podcast: Play in new window | Download