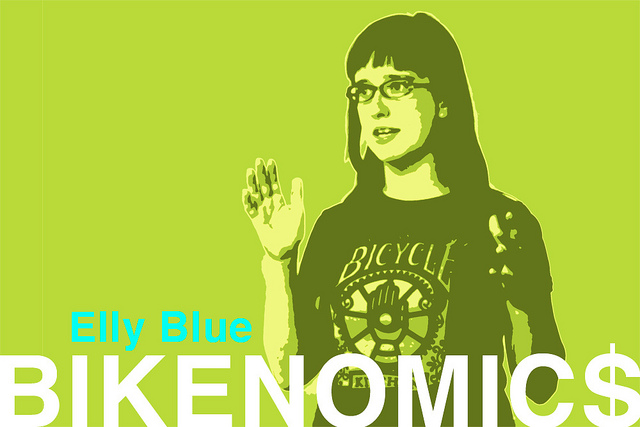 Elly Blue is the author of the blog Taking The Lane and several 'zines, a bicycling culture advocate and a connector drawing the threads of simpler transportation together across the country on her Dinner & Bikes tour.  She joins us today to chat about being out on the road with Dinner & Bikes, zines on bicycling, perspective on the Portland bicycle & transportation scene, gender and bikes, and more.
Brock's 30th birthday party is coming up at Cartlandia: Best Bands Ever 2012, a free music festival!
Bike Safe Portland wallet-sized accident reports are available now in Portland bicycle shops near you!  Thanks to Josh Zisson from Bike Safe Boston and the Bike Safe Nation project.
The Sprocket Podcast is now available on Stitcher smart radio!  If you use the service, you can add us to your programming roster.
Headlines
UrbanVelo & The Telegraph: Graeme Obree plans to break 100mph on a homemade bike Sightline.org: 26 innovative ways to store your bike
BikePortland: after a fatal crash downtown, hundreds gather to honor Kathryn Rickson.
BikePortland: animation shows growth of Portland's bike infrastructure over time TRANSPORTland: map of the Disaster Relief Trials route released!
Mailbag
Eric Schambion and Amaya Williams from WorldBiking.info: "Pedaling to your podcasts makes the miles fly by! Thanks for all the cycling information and inspiration."
Fine Print
email us: thesprocketpodcast@gmail.com
twitter: @SprocketPodcast
phone in or SMS: 503-847-9774
web: http://thesprocketpodcast.com
music: Ryan J. Lane (intro & outro) & Hurtbird (headlines)
Podcast: Play in new window | Download