note: this episode features a single microphone due to logistical difficulties.  we apologize for the audio quality, but we will return to our usual microphones soon!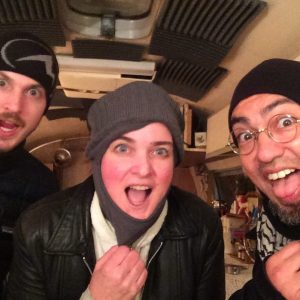 Naomi Fast lives on the west side of the Portland metropolitan area, and is an advocate for bicycling options in a community that isn't always tailored to safety for human-powered options.  She talks about getting started on a no-car lifestyle, getting into and out of the suburbs, advocacy, and those little pass-though links you can discover in a gnarled web of cul-de-sacs.
As always, thanks to our drink sponsor The Beer Mongers & our generous Patreon donors.
Calendar
2nd Thursday of every month Joyful Rider's Club in Minneapolis
2nd Friday of Every Month Boston Bike Party
Also, 2nd friday of Every Month Indianapolis Bike Party
Also, Also, 2nd Friday of Every Month East Bay Bike Party
Last friday of every month: Baltimore Bike Party
Every 2nd Sunday of every month in PDX: Corvidae Bike Club Ride
Dec 15: Group Ride to Bike Craft
Dec.15 and16 Bike Craft
Jan. 8: Bowie Birthday Ride
UPCOMING Filmed By Bike TOUR DATES:
CALL FOR ENTRIES! Submit your film by January 20 to be part of the collection
Boise, ID – January 18
Los Angeles, CA – January 27
Hood River, OR – February 12
Arcata, CA – March 15
Bendigo, Australia – October 4
Headlines
From the slate.com: Minneapolis Confronts Its History of Housing Segregation
From chi.streetsblog.org: How Can Biking Stay Joyful in the Midst of Winter?
Fine Print
Produced at STREAM PDX thanks to Open Signal
music: Ryan J. Lane (intro & outro) & Hurtbird (headlines)
graphic design: Marcus Norman
web: http://thesprocketpodcast.com
email us: thesprocketpodcast@gmail.com
phone/SMS: 503-847-9774
Twitter & instagram: @SprocketPodcast
Donate: Patreon (ongoing) or Square Cash (one-time)
Thanks to our sustaining donors for supporting our show costs:
Logan Smith, Shadowfoot, Kathrina Mellemgaard, Wayne Norman, Ethan Georgi, Eric Iverson, Cameron Lien, Richard Wezensky, Tim Mooney, Glenn Kubish, Matt Kelly, Eric Weisz, Todd Parker, Dan Gebhart (who's a time traveler), Dave Knows, Chris Smith, Caleb Jenkinson, JP Kewley, Peanut Butter Jar Matt, Marco Lo, Rich Otterstrom, Andrew in Colorado, Drew the Welder, Anna, Andre Johnson, Richard G, Guthrie Straw, Kampcite, Aaron Green, Mac Nurse David, Nathan Poulton, Chris Rawson, Rory in Michigan, Michael Flournoy, Jeremy Kitchen, David Belais, Tim Coleman, Harry Hugel, E.J. Finneran, Brad Hipwell, Thomas Skadow, Keith Hutchison, Ranger Tom, Joyce Wilson, Ryan Tam, Derek Waggoner, Jason Aufdenberg, Microcosm Publishing, David Moore, Todd Groesbeck, Chris Barron, Sean Baird, Simon, Gregory Braithwaite, Ryan Mauro, Jimmy Diesel, dudeluna, Matthew Rooks, Marshall, Lillian Karabaic, Paula Funatake, Spartan Dale
Podcast: Play in new window | Download