It's the Tim Mooney Show!
Tim drops into the trailer on an especially rainy night.  While the compressor plays games with the rain noises, you can listen to the guys talk about comedy, aging, aging comedy, and the comedy of aging!  Tim went to Seattle, they talk about a bunch of movies and television, the nature of silence, touring (of course), AD&D, pop culture questions, and more!
And we get a visit from Brock, this show's Dean Martin!  His band Lumberjack is finally dropping their album Bring It On Home onto streaming services at the beginning of 2019!
Calendar
2nd Thursday of every month Joyful Rider's Club in Minneapolis
2nd Friday of Every Month Boston Bike Party
Also, 2nd friday of Every Month Indianapolis Bike Party
Also, Also, 2nd Friday of Every Month East Bay Bike Party
Last friday of every month: Baltimore Bike Party
Every 2nd Sunday of every month in PDX: Corvidae Bike Club Ride
Dec 23: Christmas Eve-eve Celebration of Barrel-Aged Beers at The Beer Mongers
Dec 24: Christmas Eve Bottle Pours at The Beer Mongers
Jan. 8: Bowie Birthday Ride
UPCOMING Filmed By Bike TOUR DATES:
CALL FOR ENTRIES! Submit your film by January 20 to be part of the collection
Boise, ID – January 18
Los Angeles, CA – January 27
Hood River, OR – February 12
Arcata, CA – March 15
Bendigo, Australia – October 4
Mail
From Chris R: "Bike rack, check. Wave bike rack…yuck. lift your bike up to the rack…? Huh? Interesting. Castle Rock, Colorado."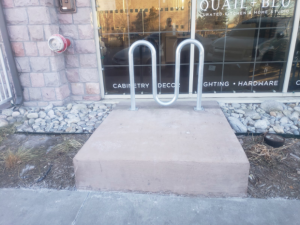 From Josh G: "Selling my triplet bike. This bike is not easy to captain, and I don't want to sell it to just anyone, but $$$ are not my goal.  26″.  Functions fine, as you know! Will fit a wide range of heights. Is exactly 10 feet long. Rear wheel is replaced with a very nice heavy duty downhill one.  I would like $50 (that's $16.66 per rider!)"
https://portland.craigslist.org/mlt/bik/d/portland-triplet-tandem-mtb/6775141310.html


From Tim Mooney: I want to do a six-part podcast series on this.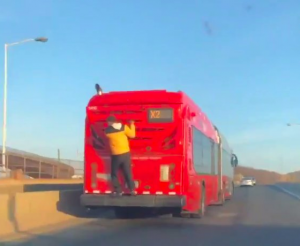 From Josh from Bike Initiative Keweenaw: content over ads!  a new donor.
Fine Print
Produced at STREAM PDX thanks to Open Signal
music: Ryan J. Lane (intro & outro) & Hurtbird (headlines)
graphic design: Marcus Norman
web: http://thesprocketpodcast.com
email us: thesprocketpodcast@gmail.com
phone/SMS: 503-847-9774
Twitter & instagram: @SprocketPodcast
Donate: Patreon (ongoing) or Square Cash (one-time)
Thanks to our sustaining donors for supporting our show costs:
Logan Smith, Shadowfoot, Kathrina Mellemgaard, Wayne Norman, Ethan Georgi, Eric Iverson, Cameron Lien, Richard Wezensky, Tim Mooney, Glenn Kubish, Matt Kelly, Eric Weisz, Todd Parker, Dan Gebhart (who's a time traveler), Dave Knows, Chris Smith, Caleb Jenkinson, JP Kewley, Peanut Butter Jar Matt, Marco Lo, Rich Otterstrom, Andrew in Colorado, Drew the Welder, Anna, Andre Johnson, Richard G, Guthrie Straw, Kampcite, Aaron Green, Mac Nurse David, Nathan Poulton, Chris Rawson, Rory in Michigan, Michael Flournoy, Jeremy Kitchen, David Belais, Tim Coleman, Harry Hugel, E.J. Finneran, Brad Hipwell, Thomas Skadow, Keith Hutchison, Ranger Tom, Joyce Wilson, Ryan Tam, Derek Waggoner, Jason Aufdenberg, Microcosm Publishing, David Moore, Todd Groesbeck, Chris Barron, Sean Baird, Simon, Gregory Braithwaite, Ryan Mauro, Jimmy Diesel, dudeluna, Matthew Rooks, Marshall, Lillian Karabaic, Paula Funatake, Spartan Dale, Bike Initiative Keweenaw
Podcast: Play in new window | Download