Tonya Oyala and Brad Nelson from Events By Axiom join to talk Cranksgiving and a bag of wine, commuting, triathalons, Pedalpalooza, bike touring and more!
Calendar
2nd THURSDAY of every month Joyful Rider's Club in Minneapolis 
2nd Friday of Every Month Boston Bike Party
Also 2nd friday of Every Month Indianapolis Bike Party
Every 2nd Sunday of every month Corvidae Bike Club Ride
Feb 24: Menagerie in Motion Kinetic Derby Gainsville, FL
Feb 24: Not-So-Noisy Community Festival Bike Ride Daytona Beach, FL (including the FL premiere of the film "Why We Cycle")
April 8:  Pedal Pursuit
April 14: Ladd's 500 Team Sprocket Podcast will interview you!!
April 29: Monster Cookie Metric Century
May 19: DC Bike Ride
June 23: Petal Pedal*
August 19: Portland Century*
Sept 2: Tour de Lab*
Sept. 22: Lowell Kinetic Sculpture Race Lowell, MA
UPCOMING Filmed By Bike TOUR DATES:
Boise, ID – February 8, 2018
Aarhus, Demark – March 3, 2018
SXSW, Austin, TX – TBD around March 9-12, 2018 (more on this in headlines)
Copenhagen – March 10, 2018
Albany, NY – July 22, 2018
Seattle, WA – TBD
Vancouver, WA – TBD
Arcata, CA – November, 2018
Bendigo, Australia – October, 2018
Headlines
Filmed by Bike is Going to SXSW
From Washington Post
This simple solution to smartphone addiction is now used in over 600 U.S. schools
From streetsblog USA
How America's Bike Helmet Fixation Upholds a Culture of "Unfettered Automobility"
From strava.com
Sebastien Poole has created a Sprocket Podcast Strava Club
From Telegraph UK via Josh G
Saudi prince 'spends £558,000' on one week holiday in Turkey
Mail
Brock sends some questions on Car2Go:
Smart cars gone. 😢
Lotta cars available. 🤔
Where we gonna put our wet bikes?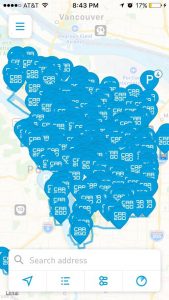 From Mac-Nurse David: "From the 'just take my money already!' file… found at a local bike shop"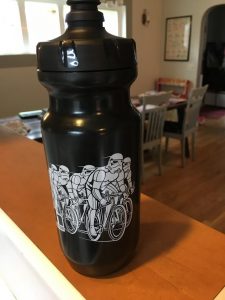 Also from Mac-Nurse David: I hope The Red Hare Among Horses isn't territorial. Here's how the new bike got home.

Superfan Aqua gives us 5 stars!
Josh G posted a review of our show… and our patch
Speaking of patches, from Sean Baird:

Lastly, some reviews
Fine Print
Produced at STREAM PDX thanks to Open Signal
music: Ryan J. Lane (intro & outro) & Hurtbird (headlines)
graphic design: Marcus Norman
web: http://thesprocketpodcast.com
email us: thesprocketpodcast@gmail.com
phone/SMS: 503-847-9774
Twitter & instagram: @SprocketPodcast
Donate: Patreon (ongoing) or Square Cash (one-time)
Thanks to our sustaining donors for supporting our show costs:
Logan Smith, Shadowfoot, Kathrina Mellemgaard, Wayne Norman, Doug Robertson, Ethan Georgi, Justin Martin, Eric Iverson, Cameron Lien, Richard Wezensky, Tim Mooney, Glenn Kubish, Matt Kelly, Eric Weisz, Todd Parker, Dan Gebhart (who's a time traveler), Dave Knows, Chris Smith, Christi Caister, Caleb Jenkinson, JP Kewley, Peanut Butter Jar Matt, Marco Lo, Rich Otterstrom, Andrew in Colorado, Drew the Welder, Anna, Jon Wasserman, Andre Johnson, Josh Zisson, Richard G, Guthrie Straw, Kampcite, Aaron Green, Mac Nurse David, Nathan Poulton, Chris Rawson, Rory in Michigan, Michael Flournoy, Jeremy Kitchen, David Belais, Tim Coleman, Mr. T, Harry Hugel, E.J. Finneran, Brad Hipwell, Thomas Skadow, Keith Hutchison, Ranger Tom, Joyce Wilson, Ryan Tam, Derek Waggoner, Jason Aufdenberg, Microcosm Publishing, David Moore, Todd Groesbeck, Chris Barron, Sean Baird, Simon, Gregory Braithwaite, Ryan Mauro, Jimmy Diesel, dudeluna, Matthew Rooks
Podcast: Play in new window | Download