Glenn Kubish is a longtime listener and supporter of our show.  He's well connected in the Edmonton, Alberta bicycling community, and when he recommended a guest, we knew that we'd never make it up to Canada in time to interview him, so we asked, "would you be willing to do the interview?" A resounding positive answer meant that we now get to deliver this gem of an interview with a man who, in Glenn's words, has "the spirit of the @SprocketPodcast" in him. "Plus," he adds, "he's a doc, built abamboo bike, roasts his own coffee."  Darren Markland also sports a wicked ice beard in the winter!
We're grateful for this little window into the #YEGbike community!  Many thanks to our friends up north, and here's to hoping there will be a new podcast on the horizon.  Who knows? With enough friendly encouragement, they might just do it…
If you enjoyed this Pocket Sprocket format and feel like you know someone interesting in your town, be sure to get in touch.  We want your positive vibes to spread, and would love to help bring someone's story to the rest of the world if you'd like to help us find it.  See below for our contact info!
We'll be back next week with more Portland-produced episodes! See you then.
(oh yeah, and there was that time we met Glenn at Filmed By Bike)
Fine Print
email us: thesprocketpodcast@gmail.com
twitter: @SprocketPodcast
phone in or SMS: 503-847-9774
web: http://thesprocketpodcast.com
music: Ryan J. Lane (intro & outro) & Hurtbird (headlines)
Thanks to our sustaining donors for supporting our show costs:
Logan Smith, JohnnyK, Shadowfoot, Kathrina Mellemgaard, Wayne Norman, Doug Robertson, Ethan Georgi, Justin Martin, Eric Iverson, Cameron Lien, Richard Wezensky,Tim Mooney, Orange & Purple, Glenn Kubish, Matt Kelly, Jim Goodin, Eric Weisz, Doug CohenMiller, Todd Parker, Scott McAllister Morgan, Chris Gonzalez, Dan Gebhart, Zoe Campagna, John Blood, Alison Wiley, Andy Brunner, Dave Knows, Lars V., Chris Smith, Christi Caister, Caleb Jenkinson, JP Kewley, Matt B., Patrick Archain, Gabriel Trainer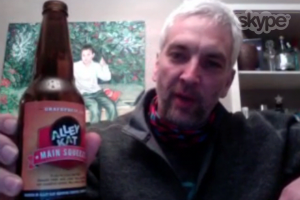 Podcast: Play in new window | Download