Steve Gutmann is a sustainability genius and regional pointman for the peer-to-peer carsharing service Getaround.  We talk to him about the history of carsharing, beginning with Dave Brook's Carsharing Portland, and its evolution into the systems that are available today, including the ability to leverage your personal car's potential into additional income and an incentive to drive it less.  We wrap up with a surprise discussion of self-driving cars and how they might make cities more friendly to people in general (click to read Steve's article on this subject).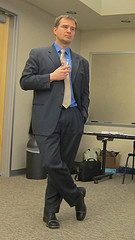 Also: snowpocalypse!  snow anarchy, the sliding truck, and enjoying an unexpected holiday.
Headlines BikePortland: Chicago brings Portland's bag of biking tricks to Bronzeville's 'Black Metropolis' BikePortland: Brandon Rhodes, Lents' new bike-powered grocer
Mail Kirk twitters about Iowa & #godshandkerchief
Scott Cohen from the City of Portland writes in to clarify how demand for bike parking works, including a link to the guide to installing bike racks in the public right-of-way.
Chris in Arcata asks about Brooks saddle vendors in Portland.  We mention these options:
• Wallingford Bicycle Parts, in Louisiana, has a 6 month trial guarantee on saddles •Gladys Bikes has a saddle library • Clever Cycles • Velo Cult • Universal Cycles • Joe Bike
And we watched Chris' film recommendation Riding Bikes With The Dutch.
Bill Lascher finds it, Doctor Jeff predicted it: speed dating on public transit's "singles car."
Fine Print email us: thesprocketpodcast@gmail.com twitter: @SprocketPodcast phone in or SMS: 503-847-9774 web: http://thesprocketpodcast.com music: Ryan J. Lane (intro & outro) & Hurtbird (headlines) Thanks to sustaining donors Logan Smith & Shadowfoot for supporting our show costs.

Podcast: Play in new window | Download