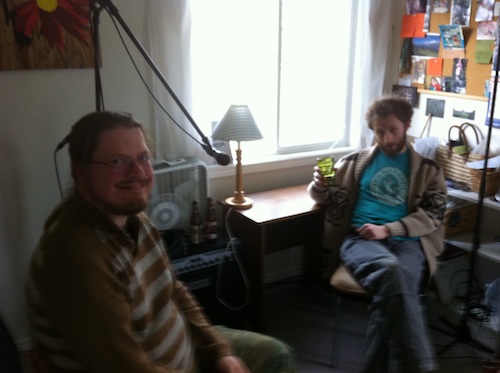 Matt Picio rejoins the show to discuss the Peak Oil hypothesis/phenomenon with Brandon.
Youtube Video Series: Albert Bartlett on the Exponential Function
Recommended Reading: The Long Descent by John Michael Greer, The Long Emergency by James Howard Kunstler, Reinventing Collapse by Dmitry Orlov
Also: the man (not a woman, as we had thought) undertaking a bicycle tour while eating at a budget below the poverty line.
Also: Humanity on Wheels: An Evening of Mass Transit Tales! This Tuesday, March 20 at 7:30pm at The Jack London Bar, 529 SW 4th Ave in Portland OR
Headlines
Treehugger via Carl: the "Mamachari" from Japan offers mothers a compact kid-carrying solution
Mailbag
JohnnyK in FL: "Welcome back Brock it sounds like you had a wonderful time on the other side of the pond.  What is it about trains that brings out the 5 year old in us.  Anyway I am taking the good Dr.'s advise and I am slowing the F!@k down.  I think this is why turtles live so long.  I want to be a turtle."  Also he found an explanation of old school shaving similar to that of Amos Hunter.
Carl in CA: "I am pissed! While riding through the many parking lots of the Tustin Market Place, I was pulled over on my bike by a mall cop. Why you ask? I had no shirt on! I was heading to REI and as always would put my shirt on before I entered the store. But I was outside in a huge parking lot…" He also wonders when and where he entered a communist country.
Chris in Arcata: "Are you familiar with kinetic sculpture racing?  These are hand built pedal powered machines with crazy engineering, and often crazy art.  Often machines have multiple peddlers with costumes, bribes, poems, etc… We peddle on street, sand, mud, water.  I'm a well known racer within the community, though I'm taking a break from being an actual racer this year.  Last our team was first in speed, and I think we got a engineering award…. This race was born in Humboldt county, California.  This race is memorial weekend starting in Arcata… Other locations that do this race [are] Baltimore, Australia, Port Townsend, Corvallis (Da Vinci days), Klamath Falls, and perhaps others… peaceful peddling from Arcata."
Darren from Australia: "just a quick email to let you know about my cycle touring blog, www.cycletourer.blogspot.com. I'm spending the year travelling to various parts around the globe for one mega cycle adventure. I've just completed a little over 7 weeks on New Zealand's south island cycling with some amazing people from around the globe… It's amazing how many people have commented on the podcast stickers on my bike so I'm hoping to have converted many cycle tourists to the dark side… I was hoping to catch up with Russ and Laura of The Path Less Pedaled as Laura created a custom head badge for my Surly, but alas, we unfortunately did not cross paths."  His next stops are London, Cornwall, Ireland, France, Switzerland, Germany, & Denmark for an estimated 10,000km on the cycle computer before the tour ends.
Fine Print
email us: thesprocketpodcast@gmail.com
twitter: @SprocketPodcast
phone in or SMS: 503-847-9774
web: http://thesprocketpodcast.com
music: Ryan J. Lane (intro & outro) & Hurtbird (headlines)
Podcast: Play in new window | Download