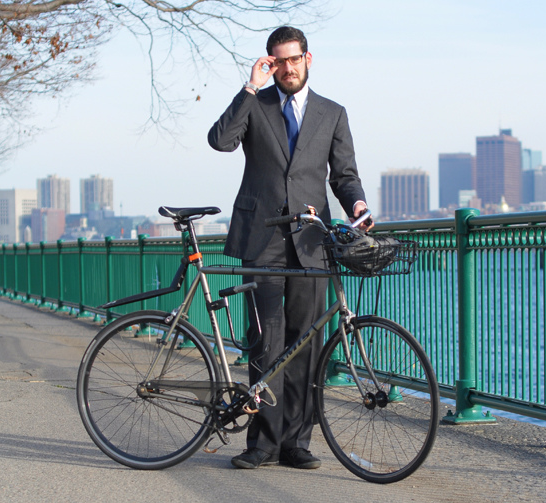 This week, in lieu of Dr. Jeff's scheduled appearance, we present an interview Brock taped with bike lawyer Josh Zisson from Boston, MA during his December travels.  Josh has been working on bicycle law awareness and connecting bicyclists with resources for legal problems and clear presentation of state bicycle laws across the country.  He was also recently featured in an article from Fast Company.  And don't worry, Dr. Jeff will be back in February once Brandon is done celebrating his birthday!
We discuss: bike lawyers, bicycling improvements in Boston, bike czar Nicole Freedman, perceptions and visibility, TravellingTwo & the dutch perspective, LA's bicycle harassment law, confrontations, taking the lane, Whale's Tale Pale Ale from Nantucket, Josh's Bicycle Accident Reportcards, the Idaho Stop Law, Josh writes about "Putting Your Foot Down," hopes for the future of bicycling in Boston, the Hubway bike share program, low income neighborhoods and transportation options, Brock's take on Boston and its liquor laws, Portland: a paradise for bicyclists?, the armored car incident, parking meters and bike politics, Boston Bikes, Fred Armisen's fear of bicyclilng, rail crossings that might be more bike-friendly, thePrince Spaghetti Factory, the shocking state of state laws, a catalyst for advocacy, bike boxes, knowledge leads to possibilities, Tim Jaques and the mispronunciation of his name, reflective Bike Safe Boston T-Shirts to benefit advocate groups, and the possibility of a burgeoning bicycle law network to protect you from unconscionable (or "scumbag") lawyers.
Headlines
via SoupCycle: Educate yourself about which foods to definitely buy organic and which aren't as bad.
via Ethan from PedalPower: bicycle composting tumbler helps you aerate your food scraps for the garden
via Michael Andersen: experimenting with packless travel!
via Carl in CA: many youngsters are finding driving to be less appealling
Mailbag
JohnnyK says "I really love coffee.  I probably drink more coffee than you guys drink alcohol."
Chris in Arcata says: "I'm in Arcata, CA. Thank you for a podacst full of great fun, and info. Your podcast, and portland in general provide me constant inspiration to advocate bike issues in Arcata. I ride a sidewinder trike cycle which gets lots of attention in town. I also am a kinetic grand champion racer. Most well known as the "peace peddler", and more recently the "sprocket brothers-private eyes" solving a case on the course. With a awesome portland based pit crew ! I have other bikes as well. My bicycle base is for fun, excersice, utilitarian uses. So a good variety of uses. Recently have seen two cargo bikes in town. Spoke to the woman on one yesterday, and she always has her child in the cargo box. It looks adorable, and practical. She said she got the cargo bike used in portland. I recently got the little package ear flap cap. So rest assured portland has it's presence on the beautiful northern CA coast." Thanks for the donation Chris!
Patrick in Davis CA says: "received the cool Sprocket Podcast stickers. I put one on my pepper peddler coffee box and one on work point of sale computer. Hope you get more UC Davis listeners in the coming new year. Really enjoyed the interview and learned new things about my coffee."  Also, thanks for the Donation!
Fine Print
email us: thesprocketpodcast@gmail.com
twitter: @SprocketPodcast
phone in or SMS: 503-847-9774
web: http://thesprocketpodcast.com
music: Ryan J. Lane (intro & outro) & Hurtbird (headlines)
Podcast: Play in new window | Download