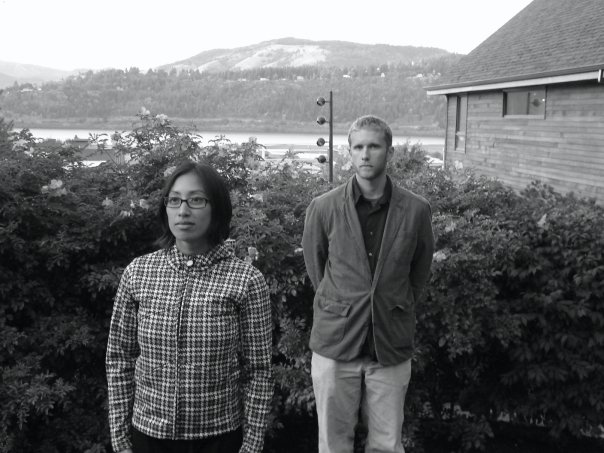 The Potters of downtown Portland, OR join us to discuss their lasting foray into car-free living!
We discuss: mustaches & calico facial hair, Brock almost forgets to talk about beer, shaking a stick at beer in John's Market, child on the way & going without beer,Portland "Bikeshed" camping map from Cycle Wild, Australian Taxi Trailer (!), Dude makes a snowplow out of a bicycle, Kid in California builds his own tandem tallbike, A rural Oregon private bus company is becoming quite popular, PSU in Portland now boasts 3 in 4 people getting there without car, Wrench Raiders fixes bikes for those without a lot of cash, Porche? No, bicycle, bikes growing up, Zwinglian European self-study (and trains!), people lending vehicles as a gesture of kindness, owning a car downtown is more trouble than it's worth, other people's cars getting towed, riding bicycles in traffic, carrying toilet paper, booties, pedal terminology confusion, wiping out in the snow on a fixie, Mia has a pimpy bike, Amsterdam bike looks classy but rides cheap, Jerrod is selling his fixie, fixies will kill your knees, all-in-one bike trailer,Brompton folding bicycles, Clever Cycles is a great little shop, riding in the car with the windows rolled down and the stereo up, Zipcar.com, karma & lending, intimate with your neighborhood, earbuds and awareness, finding a place for your bicycle, missing pieces, not much will change with the baby's arrival, small living spaces, breakfast on the bridges, cushioning convictions for other people, Brandon saves the credits
Drinks
Brandon savors the Hopworks Secession Ale, Brock & Jerrod drink the Hopyard Dogfrom Pale Horse Brewing, and Mia enjoys Chamomile Tea.
Music
Joe Pug, a singer/songwriter from Chicago, presents "Hymn 101" from his 2008 EPNation of Heat. (also view the excellent video for this song)

Fine Print
email us: thesprocketpodcast@gmail.com
twitter: @SprocketPodcast
phone in or SMS: 503-847-9774
web: http://thesprocketpodcast.com
music: Ryan J. Lane (intro & outro) & Hurtbird (headlines)
Stories from BikePortland.org featured with permission from editor Jonathan Maus.
Podcast: Play in new window | Download