Today we welcome back Brock and Adele from their time hiking (not biking!) the Pacific Crest Trail. Also with us is Guthrie Straw. Welcome back, Guthrie!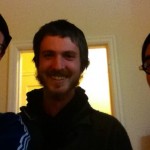 Guthrie's first Sprocket Podcast appearance circa… I can't remember.
Calendar
July 30: Pie-a-Thon, a celebration of Pie, Music, and Fun in SE Portland!
August 11: Pam Nichols Art Show at Western Bike Works Tigard 6pm
August 14: Bike Scout Scavenger Hunt
Headlines
We Got Interviewed!

From registerguard.com via Josh G.: "long depressing read on the lack of leadership at ODOT the future of passenger rail… we should just let CA and WA[sic] pay for all of OR's right of way"
Oregon rail officials look to push high-speed passenger rail service into distant future: Tentative plan would keep passenger trains on Union Pacific Railroad tracks
From kickstarter:
A magnetic, removable reflector designed to work with existing clothing and equipment to increase your visible footprint on the road.
Mail
Michael Hart reviewed us: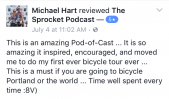 From Brittany – her bicycle fundraising campaign!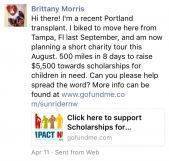 Fine Print
music: Ryan J. Lane (intro & outro) & Hurtbird (headlines)
web: http://thesprocketpodcast.com
email us: thesprocketpodcast@gmail.com
phone/SMS: 503-847-9774
twitter: @SprocketPodcast

Thanks to our sustaining donors for supporting our show costs:
Logan Smith, JohnnyK, Shadowfoot, Kathrina Mellemgaard, Wayne Norman,Doug Robertson, Ethan Georgi, Justin Martin, Eric Iverson, Cameron Lien, Richard Wezensky, Tim Mooney, Orange & Purple, Glenn Kubish, Matt Kelly, Jim Goodin, Eric Weisz, Doug CohenMiller, Todd Parker, Scott McAllister Morgan, Chris Gonzalez, Dan Gebhart, Zoe Campagna, Andy Brunner, Dave Knows, Chris Smith, Christi Caister, Caleb Jenkinson, JP Kewley, Peanut Butter Jar Matt, Patrick Archain, Sebastien Poule, Marco Lo, Rich Otterstrom, Andrew Alderson, Drew the Welder, Anna, Krista, Jon Wasserman, Andre Johnson, Shelly & Troy, Kingof Division, Josh Zisson, Richard G, Guthrie Straw, Christopher Barnett, Branden Shelby, Kampcite, Aaron Green, Mac Nurse David, Kathryn Minchin, Nathan Poulton, Chris Rawson, Rory Closz, Michael Flournoy, Jeremy Kitchen
Podcast: Play in new window | Download