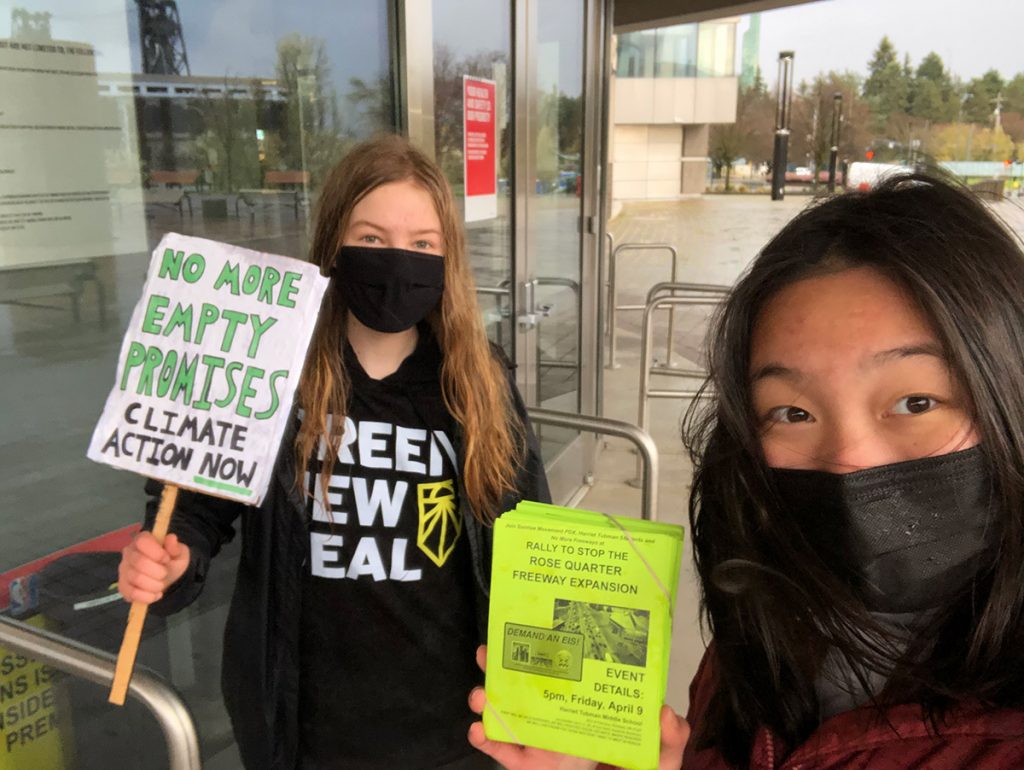 We take a moment to chat with Adah and Malina, former Harriet Tubman students, and youth leaders and activists at Grant HS about the ODOT Freeway widening, and life in general.
LEARN MORE
Oregon DOT Freeway Expansion Project
HEADLINES

Air quality soars in school streets that banished cars
From the Times of London, a report on new research that showed that "closing roads around schools to traffic at pick-up and drop-off times has cut toxic nitrogen dioxide levels by up to 23 per cent" after pollution sensors were installed at 18 primary schools in London, and then streets were closed right around the school at half. (Then we hit the paywall.) 
What Happened to Pickup Trucks?
"As U.S. drivers buy more full-size and heavy-duty pickups, these vehicles have transformed from no-frills workhorses into angry giants. And pedestrians are paying the price." By pedestrian safety expert Angie Schmitt, in Bloomberg City Lab. A great overview of the change in truck design. Also mentions the concept of petro-masculinity, which I talked about a few months ago. 
From frontiergroup.com
Less traffic, more death: A bizarre 2020 should make us rethink our transportation priorities
Thanks to new data from the Federal Highway Administration, we now know just how many cars vanished from the roads. Americans drove 13.2 percent fewer miles in 2020 than the year before. On average, Americans drove less last year than in any year since 1989…
Even as the number of miles traveled on American roads fell in 2020, the number of traffic deaths rose by 8% – to more than 42,000, with an estimated 4.8 million injuries requiring attention from a medical professional. The estimated cost of all those deaths, injuries and property damage from crashes: $474 billion.
MAIL

No mail this week – send us something fun to read perhaps? If you let us know your address Guthrie will send you a handwritten letter with a special drawing.  
EVENTS
Free bike education every 4th Wednesday with Courtney Williams at 6pm Eastern, NYC Bike Mayor, via Zoom – find out more on Instagram at @thebrownbikegirl
Fine Print
Produced at home thanks to:
music: Ryan J. Lane (intro & outro) & Hurtbird (headlines)
graphic design: Marcus Norman
web: http://thesprocketpodcast.com
email us: thesprocketpodcast@gmail.com
phone/SMS: 503-847-9774
Twitter & instagram: @SprocketPodcast
Donate: Patreon (ongoing), Venmo (one time) or Square Cash (one-time)
Thanks to our sustaining donors for supporting our show costs:
Shadowfoot, Wayne Norman, Eric Iverson, Cameron Lien,Richard Wezensky, Tim Mooney, Glenn Kubish, Matt Kelly, Eric Weisz, Doug CohenMiller, Todd Parker, Chris Smith, Caleb Jenkinson, JP Kewley, Peanut Butter Jar Matt, Marco Lo, Rich Otterstrom, Andrew in Colorado, Drew the Welder, Anna, Andre Johnson, Richard G, Guthrie Straw, Kampcite, Aaron Green, Mac Nurse David, Nathan Poulton, Rory in Michigan, Jeremy Kitchen, David Belais, Tim Coleman, Harry Hugel, E.J. Finneran, Brad Hipwell, Thomas Skadow, Keith Hutchison, Ranger Tom, Joyce Wilson, Ryan Tam, Jason Aufdenberg, Microcosm Publishing, David Moore, Todd Groesbeck, Chris Barron, Sean Baird, Simon, Gregory Braithwaite, Ryan Mauro, dudeluna, Matthew Rooks, Marshall, Lillian Karabaic, Paula Funatake, Spartan Dale, Bike Initiative Keweenaw, Sarah G, Adam D, Go Dig A Hole, Beth Hamon, Greg Murphy, Mayra M, Oso, Isaac M, David C, @Five.Oh.Three, Byron Paterson, Kurstin Graham, Erinne G, Rachel Moline, and Jimmy Diesel.
Podcast: Play in new window | Download