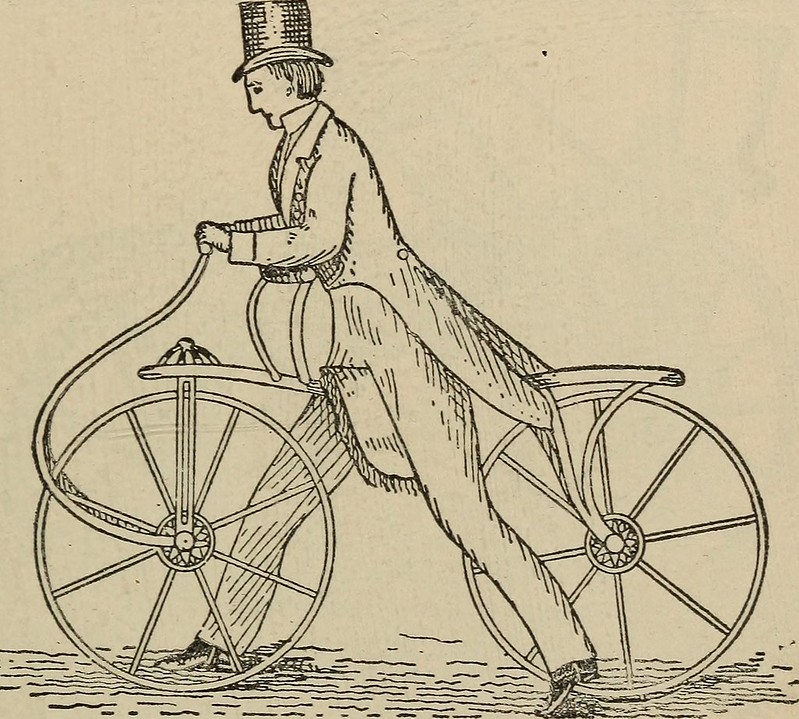 Image from page 62 of "Wheels and wheeling; an indispensable handbook for cyclists, with over two hundred illustrations" (1892)
We speak with long-time listener, donor, and friend of the show Sebastièn Poule about his experiences with bicycling and mechanics in Sonoma County, and a little about public land and wildlife encounters!  He's the one who founded the Sprocket Podcast Strava Club, gave us our podcast logo mugs, contributed many comments and emails, and is an all-around fun person to talk to.
Been following the show long?  This could be your chance to put your voice into the conversation – with all of the remote interviews we've been recording, there's no better time to share your experiences and stories with us!  Be in touch!
Thanks to our nationally recognized "top beer bar in Oregon" beverage sponsor, The Beer Mongers, and, as always, thanks to our generous Patreon donors that keep us going! 
Mail:
From apple – we're international!
From Mark re: Sprocketshift Happy Hour – trailers, listening lon-term and swithcing Portlands
From Dan Flores re: E509 – "I made the show!!! This is the best day of my adult life."
Lastly, A voicemail.
Fine Print
Produced at STREAM PDX thanks to Open Signal
music: Ryan J. Lane (intro & outro) & Hurtbird (headlines)
graphic design: Marcus Norman
web: http://thesprocketpodcast.com
email us: thesprocketpodcast@gmail.com
phone/SMS: 503-847-9774
Twitter & instagram: @SprocketPodcast
Donate: Patreon (ongoing), Venmo (one time) or Square Cash (one-time)
Thanks to our sustaining donors for supporting our show costs:
Shadowfoot, Wayne Norman, Eric Iverson, Cameron Lien,Richard Wezensky, Tim Mooney, Glenn Kubish, Matt Kelly, Eric Weisz, Todd Parker, Dan Gebhart (who's a time traveler), Chris Smith, Caleb Jenkinson, JP Kewley, Peanut Butter Jar Matt, Marco Lo, Rich Otterstrom, Andrew in Colorado, Drew the Welder, Anna, Andre Johnson, Richard G, Guthrie Straw, Kampcite, Aaron Green, Mac Nurse David, Nathan Poulton, Rory in Michigan, Jeremy Kitchen, David Belais, Tim Coleman, Harry Hugel, E.J. Finneran, Brad Hipwell, Thomas Skadow, Keith Hutchison, Ranger Tom, Joyce Wilson, Ryan Tam, Jason Aufdenberg, Microcosm Publishing, David Moore, Todd Groesbeck, Chris Barron, Sean Baird, Simon, Gregory Braithwaite, Ryan Mauro, dudeluna, Matthew Rooks, Marshall, Lillian Karabaic, Paula Funatake, Spartan Dale, Bike Initiative Keweenaw, Sarah G, Adam D, Go Dig A Hole, Beth Hamon, Greg Murphy, Mayra M, Oso, Isaac M, David C, Five Oh Three, Byron Paterson, JT
Podcast: Play in new window | Download