Peter Koonce manages the City of Portland Bureau of Transportation's Signals, Street Lighting, & ITS Division. Today, however, he regales us with tales of biking in every Cyclist-American's go-to country for arguing infrastructure.
Yes, that's right, we talk about biking in the Netherlands. Specifically, Delpht, NOT Amsterdam.
damn! I forgot to get a photo.
And as always thanks to the Beer Mongers for providing our tasty beverages
Speaking of The Beer Mongers… (from the Willamette Week)
A Local Business Totally Trolled Willamette Week—And It Was Awesome
BeerMongers twisted the WW logo and printed it on shirts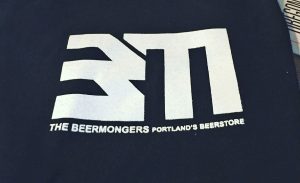 BeerMongers decided to have a little fun at our expense, twisting the WW logo into a BM logo and printing our criticism ("Right breweries. Wrong beers.") on the back. We were both chastened and honored. The mark of a truly great trolling.
Calendar – Be A Part of It!
2nd Friday of every month: Indianapolis Bike Party
July 26: Eve 6 Ride (#afterpalooza!)
July 29: Pie-a-Thon (with LIVE Sprocket Podcast)
August 5: Jen's Bike Move (friend of former guest Gerald Fitipaldi)
Aug 26: Cycle in the City Bike Party in Edmonton (thanks Glenn Kubish)
Aug 27-28: Dirty Sellwood
Sept 1: Filmed By Bike in Petosky, MI, Eugene, OR, Seattle, WA, and Charlevoix, MI
Oct 6: The AML_X challenge
Oct 6-8:  Youth Bicycle Summit
Headlines
From bikeportland.org
'Adaptive Biketown' program brings new riders to the fore
Portland now operates the nation's first city-subsidized adaptive bike rental program.
Mail
Old mail:
An audio update from DBR
Physical Mail from Greg B in Santa Cruz!
Greg sent us a letter and a CD from one of his old bands!
He was in PDX on July 18 as part of a bike tour of the OR coast.
Greg, sorry to have missed you.
A couple texts from Ranger Tom
His son was in a car accident while riding. He's fine and driver, and all included, were both helpful and encouraging. Here's picture of his son's helmet (which will be replaced) signed by the ER staff.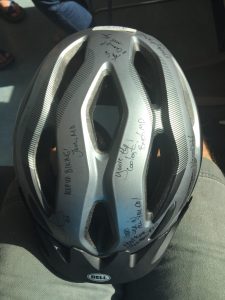 Fine Print
Produced at STREAM PDX thanks to Open Signal
music: Ryan J. Lane (intro & outro) & Hurtbird (headlines)
graphic design: Marcus Norman
web: http://thesprocketpodcast.com
email us: thesprocketpodcast@gmail.com
phone/SMS: 503-847-9774
twitter: @SprocketPodcast
Thanks to our sustaining donors for supporting our show costs:
Logan Smith, Shadowfoot, Kathrina Mellemgaard, Wayne Norman, Doug Robertson, Ethan Georgi, Justin Martin, Eric Iverson, Cameron Lien, Richard Wezensky, Tim Mooney, Orange & Purple, Glenn Kubish, Matt Kelly, Jim Goodin, Eric Weisz, Doug CohenMiller, Todd Parker, Chris Gonzalez, Dan Gebhart, Zoe Campagna, Dave Knows, Chris Smith, Christi Caister, Caleb Jenkinson, JP Kewley, Peanut Butter Jar Matt, Patrick Archain, Sebastien Poule, Marco Lo, Rich Otterstrom, Andrew in Colorado, Drew the Welder, Anna, Krista, Jon Wasserman, Andre Johnson, Josh Zisson, Richard G, Guthrie Straw, Branden Shelby, Kampcite, Aaron Green, Mac Nurse David, Kathy at Cycling Walking Eating Talking, Nathan Poulton, Chris Rawson, Rory in Michigan, Michael Flournoy, Jeremy Kitchen, David Belais, Tim Coleman, Mr. T, Harry Hugel, Ed Whitman, E.J. Finneran, Paul Culbertson, Brad Hipwell, Thomas Skadow, Keith Hutchison, Ranger Tom, Joyce Wilson, Ryan Tam, Derek Waggoner, Jason Aufdenberg, Microcosm Publishing, David Moore, Dennis O'Brien
Podcast: Play in new window | Download