Brock & Aaron get together to recap 2016's best moments!  We recall our top 5 events or adventures (Brock's in order, Aaron's nonsequential), and chat about Aaron's holiday brunch and Brock's brewery hike in Boston & radio appearance on WMBR's Bike Talk.
Thanks to our generous sponsor The Beer Mongers and our Patreon donors that keep us going!
Calendar
January 28: Collabofest @ Base Camp Brewing + SheJumpsPDX & Oregon Timber Trail
February 27: Menagerie In Motion Kinetic Derby, Gainesville FL
March 11: The Dalles Mountain 60!
June 14: Bicycle Chrissmus
Headlines
road.cc via BikePortland.org via Steven: Hundreds of lorry drivers made to ride bikes on London's roads
Mail
Brad H & Thomas S are new donors! THANKS!
Jay likes the cut of Alexis' jib.
Cameron Lein sent us a Sunrise Coffee Club picture a year and a half ago on Instagram!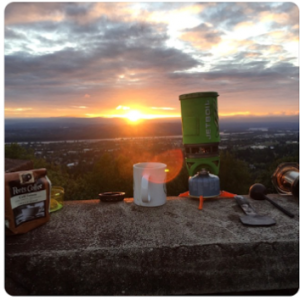 Doug is from Minnesota, not Wisconsin.
Mr. T sends us an article about a septuagenarian lymphoma survivor who watches birds by bike!
Andre Johnson: "Stylish and functional. It's covering a hole where a mouse went after a Clif bar."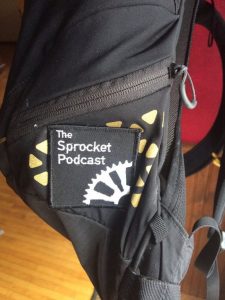 Chris in CO found a Portland tarp in his town.
Naptown Chris amuses Brock with response to all-caps location announcement.
Sebastien shows us how to tow an Airstream trailer with a bicycle, and reminds us "it wasThe Woodwright's Shop that has the guy with only hand tools".
Fine Print
music: Ryan J. Lane (intro & outro) & Hurtbird (headlines)
graphic design: Marcus Norman
web: http://thesprocketpodcast.com
email us: thesprocketpodcast@gmail.com
phone/SMS: 503-847-9774
twitter: @SprocketPodcast
Thanks to our sustaining donors for supporting our show costs:
Logan Smith, JohnnyK, Shadowfoot, Kathrina Mellemgaard, Wayne Norman, Doug Robertson, Ethan Georgi, Justin Martin, Eric Iverson, Cameron Lien, Richard Wezensky,Tim Mooney, Orange & Purple, Glenn Kubish, Matt Kelly, Jim Goodin, Eric Weisz, Doug CohenMiller, Todd Parker, Chris Gonzalez, Dan Gebhart, Zoe Campagna, Dave Knows,Chris Smith, Christi Caister, Caleb Jenkinson, JP Kewley, Peanut Butter Jar Matt, Patrick Archain, Sebastien Poule, Marco Lo, Rich Otterstrom, Andrew in Colorado, Drew the Welder, Anna, Krista, Jon Wasserman, Andre Johnson, Josh Zisson, Richard G, Guthrie Straw, Branden Shelby, Kampcite, Aaron Green, Mac Nurse David, Kathryn Minchin, Nathan Poulton, Chris Rawson, Rory in Michigan, Michael Flournoy, Jeremy Kitchen, David Belais, Tim Coleman, Mr. T, Harry Hugel, Ed Whitman, E.J. Finneran, Paul Culbertson, subvrt
Podcast: Play in new window | Download