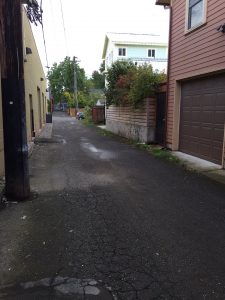 we forgot to take a photo together.
Superfan Aqua drops in to see how the show is made!  We chat aboutAaron's charity ride to breweries for a clean water project, Brock's old band's reunion show, a dustup on twitter over a misconception, and what to do about our feet now that the rainy season is on its way back.
Thanks to our generous sponsor The Beer Mongers and our Patreon donors that keep us going!
Mail
Dan Flores clears it up: this is not a Dead Milkmen song, it's a Dan Flores original! Inspired by Tim's disappointment! And Tim thinks it's amazing!
Heather shares anti-bike rhetoric mad-libs.
Uma K is spearheading a new podcast called Industry Spin, and Aaron is the producer!
David & Tim are new donors!  Thanks!
Calendar
September 22: BikeLoudPDX Rides to Salem's Legislative Days
September 24: 4-10pm The Portland Hawthorne Hostel's 13th Annual Bike-In Movie: Rising from Ashes
September 24: New Gorge trail segment opens, Viento State Park, 10am
October 1: Dr. Something EP, Rustic Machinery release party, also she's got alimited Edition cassette on bandcamp!
October 15: Brown Bear, Brown Bear reunion show
October 21-23: Freak Bike Fall
Fine Print
music: Ryan J. Lane (intro & outro) & Hurtbird (headlines)
web: http://thesprocketpodcast.com
email us: thesprocketpodcast@gmail.com
phone/SMS: 503-847-9774
twitter: @SprocketPodcast
Thanks to our sustaining donors for supporting our show costs:
Logan Smith, JohnnyK, Shadowfoot, Kathrina Mellemgaard, Wayne Norman,Doug Robertson, Ethan Georgi, Justin Martin, Eric Iverson, Cameron Lien, Richard Wezensky, Tim Mooney, Orange & Purple, Glenn Kubish, Matt Kelly, Jim Goodin, Eric Weisz, Doug CohenMiller, Todd Parker, Chris Gonzalez, Dan Gebhart, Zoe Campagna, Dave Knows, Chris Smith, Christi Caister, Caleb Jenkinson, JP Kewley, Peanut Butter Jar Matt, Patrick Archain, Sebastien Poule, Marco Lo, Rich Otterstrom, Andrew Alderson, Drew the Welder, Anna, Krista, Jon Wasserman, Andre Johnson, Kingof Division, Josh Zisson, Richard G, Guthrie Straw, Branden Shelby, Kampcite, Aaron Green, Mac Nurse David, Kathryn Minchin, Nathan Poulton, Chris Rawson, Rory Closz, Michael Flournoy, Jeremy Kitchen, David Belais, Tim Coleman
Podcast: Play in new window | Download