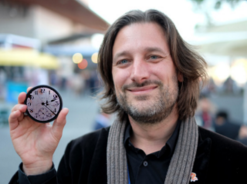 Today a remote conversation with Aubrey Anderson, the designer/developer ofRuncible, the circular "anti-smartphone."  What do you do when you're tired of seeing people stare down blankly at a rectangle?  Reinvent the darned thing.  Runcible is a legacy electronic, designed to last and constructed of quality & socially responsible materials, and it's specially calibrated to enahnce your interactions with the world around you, not distract you from it.  And you can carry it on a stylish chain!  Visit the IndieGoGo page for more info, or the theMonohm site.
Also: Aaron is pretty sure he's not concussed (at least that's what he's saying).
Calendar
July 30: Pie-a-Thon 2016
August 11: Pam Nichols Art Show at Western Bike Works Tigard 6pm
August 14: Bike Scout Scavenger Hunt
Headlines
From the verge.com via Logan Smith
These ultra-tough socks almost stopped me wearing shoes
Biketown contract forces users to waive their legal rights – unless they act quickly
And also This Musical Double Negative
Mail
From Cristi : Vernors is the best ginger ale!
From Todd T in Helena, MT: Vernors is a cure-all!
From Aqua D in PDX: E204 is full of cute interactions between two star-crossed lovers.
Fine Print
music: Ryan J. Lane (intro & outro) & Hurtbird (headlines)
web: http://thesprocketpodcast.com
email us: thesprocketpodcast@gmail.com
phone/SMS: 503-847-9774
twitter: @SprocketPodcast
Thanks to our sustaining donors for supporting our show costs:
Logan Smith, JohnnyK, Shadowfoot, Kathrina Mellemgaard, Wayne Norman,Doug Robertson, Ethan Georgi, Justin Martin, Eric Iverson, Cameron Lien, Richard Wezensky, Tim Mooney, Orange & Purple, Glenn Kubish, Matt Kelly, Jim Goodin, Eric Weisz, Doug CohenMiller, Todd Parker, Scott McAllister Morgan, Chris Gonzalez, Dan Gebhart, Zoe Campagna, Andy Brunner, Dave Knows, Chris Smith, Christi Caister, Caleb Jenkinson, JP Kewley, Peanut Butter Jar Matt, Patrick Archain, Sebastien Poule, Marco Lo, Rich Otterstrom, Andrew Alderson, Drew the Welder, Anna, Krista, Jon Wasserman, Andre Johnson, Shelly & Troy, Kingof Division, Josh Zisson, Richard G, Guthrie Straw, Christopher Barnett, Branden Shelby, Kampcite, Aaron Green, Mac Nurse David, Kathryn Minchin, Nathan Poulton, Chris Rawson, Rory Closz, Michael Flournoy, Jeremy Kitchen
Podcast: Play in new window | Download