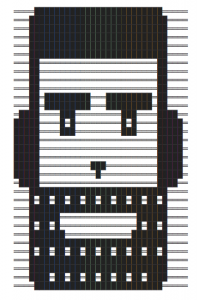 Our show with Joe Wheels and David Robinson continues, including:
headlines
The Atlantic, via Logan: Which Jobs Have the Highest Rates of Depression?
50 years of research on bus driver well-being.
mail
Phil in AK approves of the beards.
JohnnyK adds ASCII beard art and thinks cycling is good for your back pains.
Tim is taking the Amtrak sleeper car too!
TopHat says Amtrak ought to allow cargo bikes.  Say it again!
Nathan chimes in on Amtrak too with a story from his childhood.
Doug Robertson is blogging at four season cycling!
Anna says saddle sores are dumb and there are some solutions:
-diaper rash cream
-hydrocortisone cream
-salicylic acid or benzoyl peroxide cream (a.k.a the stuff for acne)
Dom from onebikeoneworld.com shares an unusual saddle to avoid the unpleasantness:
Drew the Welder says saddle sores could be boil/abscess instead of lymph system.  Best to stop riding until it goes away.
Also he mentions the Rinko for easy train travel!
Scott says everyone should get "'bent" – as in recumbent bicycles. He referencesbikeism, and Australia's HPV race.
PBJMatt asks: Why is it that all the great adventurers are British?
Review from Logan!  "Great podcast and I look forward to their show every week. Their perspectives foster community and collaboration."
Fine Print
music: Ryan J. Lane (intro & outro) & Hurtbird (headlines)
web: http://thesprocketpodcast.com
email us: thesprocketpodcast@gmail.com
phone/SMS: 503-847-9774
twitter: @SprocketPodcast
mail things to:
Brock Dittus/The Sprocket Podcast
℅ IPRC
1001 SE Division St
Portland OR 97202
Thanks to our sustaining donors for supporting our show costs:
Logan Smith, JohnnyK, Shadowfoot, Kathrina Mellemgaard, Wayne Norman,Doug Robertson, Ethan Georgi, Justin Martin, Eric Iverson, Cameron Lien, Richard Wezensky, Tim Mooney, Orange & Purple, Glenn Kubish, Matt Kelly, Jim Goodin, Eric Weisz, Doug CohenMiller, Todd Parker, Scott McAllister Morgan, Chris Gonzalez, Dan Gebhart, Zoe Campagna, Andy Brunner, Dave Knows, Chris Smith, Christi Caister, Caleb Jenkinson, JP Kewley, Peanut Butter Jar Matt, Patrick Archain, Gabriel Trainer, Sebastien Poule, Marco Lo, Rich Otterstrom, Andrew Alderson, Drew the Welder, Anna, Krista Skucas, Jon Wasserman, Andre Johnson, Shelly & Troy, Kingof Division, Josh Zisson, Richard G
Podcast: Play in new window | Download