Alison Wiley blogs at Diamond Cut Life on simpler living for better quality of life; we can't get enough of her common sense advice on matters like cold winter house heating, living like a salmon for an epic life, and using transit to break away on your vacation, and her recent discovery of ethical clothing company 541 Threads inspired her to get back in touch for another show.  Plus: we swear less when we talk to her!
Also: Brock rents a Prius through RelayRides, and Aaron takes a folding bike onto theworst airline ever.  We also briefly discuss curling, the mysticism of the morning hours, and mention the Better World Shopping Guide & Alison's novel, Revelle!
Headlines
via Bike Portland, The NY Times: Finding a Salve for His Depression on Two Wheels
Mail
Jim in NY made some music by bike!
Drew's cape isn't our bag, but he's hoping his Showers Pass jacket will be.
Dan's hibernating bike in MN: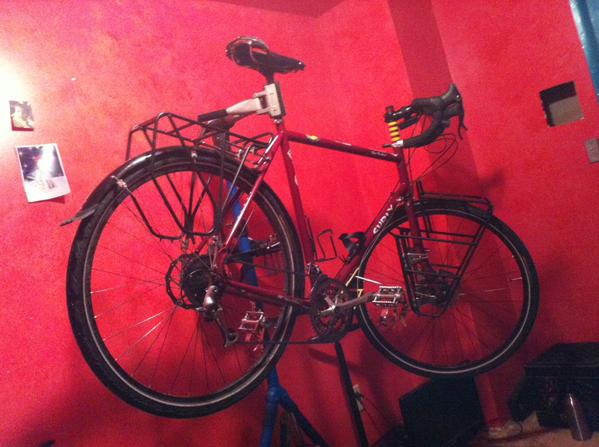 Fine Print
email us: thesprocketpodcast@gmail.com
twitter: @SprocketPodcast
phone in or SMS: 503-847-9774
web: http://thesprocketpodcast.com
music: Ryan J. Lane (intro & outro) & Hurtbird (headlines)
Thanks to our sustaining donors for supporting our show costs:
Logan Smith, JohnnyK, Shadowfoot, Kathrina Mellemgaard, Wayne Norman, Doug Robertson, Ethan Georgi, Justin Martin, Eric Iverson, Cameron Lien, Richard Wezensky, Tim Mooney, Orange & Purple, Glenn Kubish, Matt Kelly, Jim Goodin, Eric Weisz, Doug CohenMiller, Todd Parker, Scott McAllister Morgan, Chris Gonzalez, Dan Gebhart, Zoe Campagna, John Blood, Alison Wiley
Podcast: Play in new window | Download