This week we bring back Lenny "the King of Swan Island" Anderson to tell us about the days of touring without all the fancy gadgets you kids have these days. The last time we talked with Lenny we didn't get any of his touring stories. He did not disappoint this time. Though he was not impressed with my choice of beverage.
Also with us is Dan B. who comes to PDX from the Volunteer State. Dan will be starting a podcast on sustainability with his siblings and wanted to see what podcasting Sprocket-style looks like. God luck, Dan!
Oh, and Lisa's back! She has a funny anecdote that turns into a plug for Gladys Bikes (take a drink Krista S).
Mail
We got physical mail From Mark in San Jose!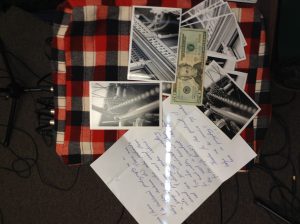 We got Voicemail from Tim Mooney
From Johnny K. in FLA: Aaron got the intro, hates clowns, and wants breakfast on his commute.
From Josh G. in Concordia: "I vote Eilif your most entertaining guest.. up there with brewmaster Dan Hynes from Thunder Island Brewing."
From Brock Dittus in Lake Chelan
"I only took two pictures! But here they are. No. 2 is a sunRISE, even though it looks like a sunset."
News
From Gizmodo via listener Mark V: How Cyclists on Fixies Saved California's Mail Service 120 Years Ago
From TriMet: an open house on the new Orange Line
find us on the Internet at thesprocketpodcast.com
send feedback about the program and suggestions for topics or guests –
write us via email, the address is thesprocketpodcast@gmail.com
call and leave us a message or text to 503.847.9774
connect with us on Twitter @SprocketPodcast
thanks to Ryan J Lane for providing our theme music
thanks to Hurtbird for our headlines sounder
and thanks to our sustaining donors Logan Smith, Shadowfoot, Kathrina Mellemgaard, Roger Grigsby , Wayne Norman, Doug Robertson, Ethan Georgi,  Justin Martin and Eric Iverson
Podcast: Play in new window | Download