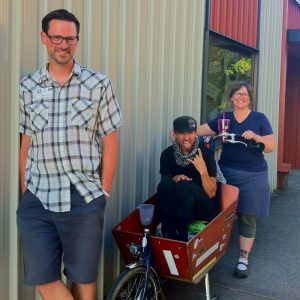 Kath Youell is excited about cargo & family bike-fietsing, and is the caretaker at thePortlandize.com website.  We talk with her about her bicycling induction, the move from Sacramento, and helping to coordinate a cargo bike gang around town!
Also: Brock forgets to time his transit trip correctly, but finalizes his move out of the apartment, and Aaron does an "endo" when his pannier slips into his spokes!  Along with Kick Ass Oregon History's summer road trip & Pedalpalooza!
Headlines
BikePortland: Preparation tips from a Pedalpalooza veteran
Gizmodo: SF police use high-tech solutions to track bicycle theives
     (sent in by Mark the Hammock Guy)
BikePortland: Project 529 uses high-tech solutions to track bicycle theives, and more!
Mail
JohnnyK writes about french-pressing his coffee by bike.
Ethan from Energy Cycle shares "an event at Hardywood Brewery where we had two spin sessions (40 cyclists total) on our energy producing bike trainers. We harnessed the energy to provide power to the beer brewing equipment. Fun times!  The beer we created was called "Amperage Ale", and was quite tasty."
Former guest Diane from TriMet shares:
"Comto Oregon is putting on this bike safety event on June 18."
Conference Of Minority Transportation Officials (COMTO) is the nation's only multi-modal advocacy organization for minority professionals and businesses in the transportation industry. COMTO is in a unique position to be involved to speak on behalf of minority professionals and businesses on the cutting edge of transportation issues that are sweeping the nation.

"The PDX Bicyclist's Commute"
Wednesday, June 18th
11:30am – 1:00pm
ODOT Region 1 Building Conference Rooms A&B
123 NW Flanders Street
Portland, OR 97209
(registration required)
Fine Print
email us: thesprocketpodcast@gmail.com
twitter: @SprocketPodcast
phone in or SMS: 503-847-9774
web: http://thesprocketpodcast.com
music: Ryan J. Lane (intro & outro) & Hurtbird (headlines)
Thanks to our sustaining donors for supporting our show costs:
Logan Smith, Shadowfoot, Kathrina Mellemgaard, Roger Grigsby, Wayne Norman, Doug Robertson, Ethan Georgi, & Justin Martin

Podcast: Play in new window | Download