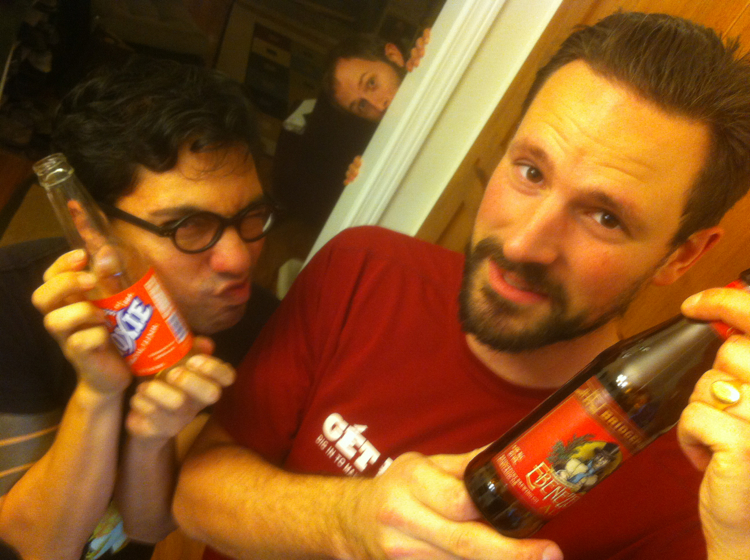 Brock & Aaron hold down the proverbial fort on their own this week in an episode dedicated to clearing the desk of all the cool stuff they've learned about in the last month.  We start out with talk about tux mayhem, train etiquette, and Indiegogo perks still to come! We drank Moxie & Bridgeport Ebenezer Ale.
My Bike Won't Fit Here!
Aaron introduces a new segment this week. Pictures to be posted here when possible – check back.  This week's egregious bike parking: Fred Meyer!  This is a photo from the Portland location at SE 82nd Avenue & Foster Road.  Thanks to listener David, who works for the corporation, for a timely response to this observation!  We'll see what changes in the future.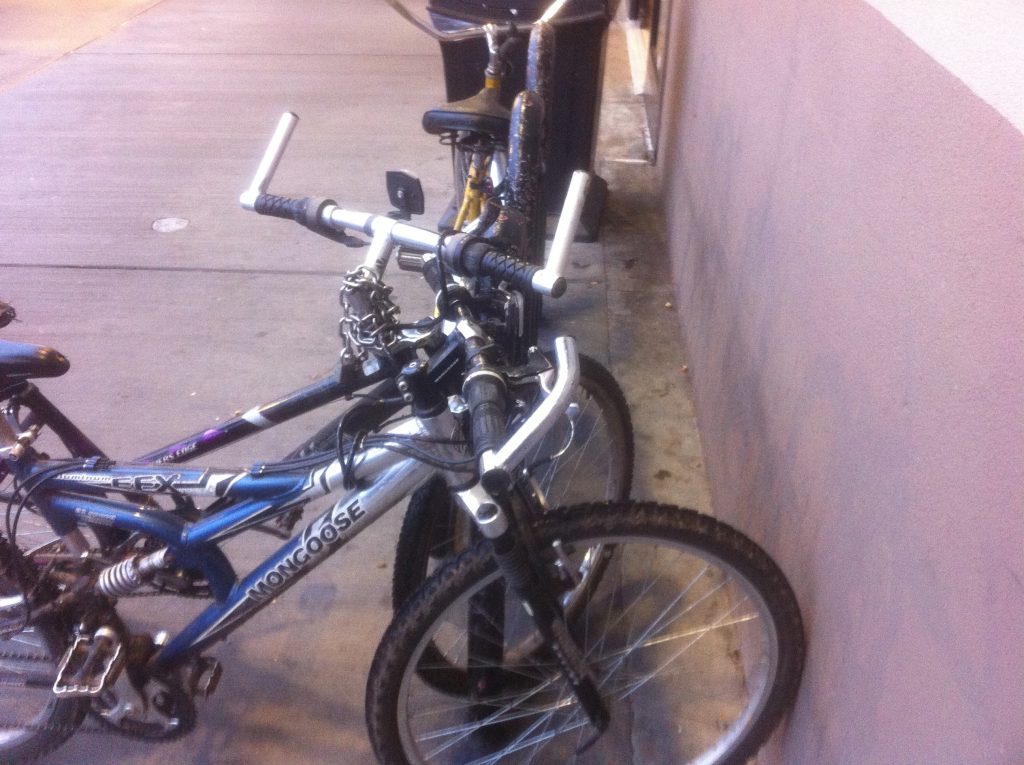 Headlines
BikePortland news roundup: Piscataquis Village Project plans to create a carless "micropolis"
BikePortland: a farmer in the Portland region swaps his truck for a cargo bike
BBC News via Brandon: the Uruguayan president is living meager, but happy!
The Oregonian: speeding car crashes into Sunset TC – from above
Rivendell Bicycle Works: MUSA Splats cover ordinary shoes for wet weather
The Atlantic Cities: media hosts an ecology dustup between cars & transit
BikePortland: Tom LaBonty heads to Texas to teach cargo bike building
Lovely Bicycle: When do we need a cargo bike?
Cycle Wild: Petition asks for decent treatment of self-propelled NPS guests
Happy, Simply: former show guest d'Arcy Lunn has a new simple living project
No Tech via Logan: now you can UN-knit your wool with a bicycle
BikePortland: Chris Sanderson not allowed to recycle metal by bike
Fast Co. Design: designer proposes an aerial tram over Austin
Mailbag
David Heddy mentions a couple touring the Great Divide on a tandem
Eric Krimmel wrote us about his new ebook "The Cross Country Adventures of the Blue Highways Cycling Elite," a true story of three friends who embark on an 4200 mile bicycle trip across the USA, from Anacortes, Washington to Bar Harbor, Maine.  It's available on iTunes, Amazon, and Barnes & Noble.
Dan in MN recommends Nick Mason of the League of American Bicyclists as an interview. Also, Dan just moved into his own tiny house that he built himself!
Kevin from L.A. donates generously and says he can hook us up with Tall Bike Bobby.
Thanks to Stacy from A Simple Six for recommending our show on Twitter.
Dodson gets in touch about interviewing Brek Boughton (blogger and adventurer) from Cycling Into The Dark: http://cyclingintothedark.com 
Fine Print
email us: thesprocketpodcast@gmail.com
twitter: @SprocketPodcast
phone in or SMS: 503-847-9774
web: http://thesprocketpodcast.com
music: Ryan J. Lane (intro & outro) & Hurtbird (headlines)
Podcast: Play in new window | Download