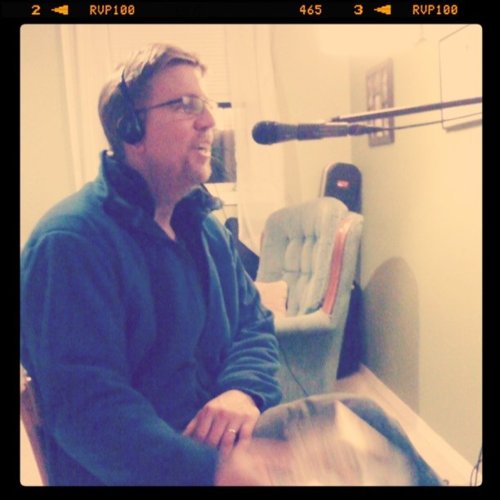 Joe Kurmaskie, Portland's own "Metal Cowboy" joins us to discuss his writing career, philosophies, and many experiences on two wheels.
We discuss: CycleWild trip and missed connections, "not a man – nay, a god!", homebrews, lemon juice cure, new Hurtbird news sounder, USA Today via BikePortland:buses losing seating because Americans are getting bigger, C-TRAN's generous bike policy, CleverCycles via BikePortland: car sharing in Oregon & its barely hidden bikey agenda, belt loops, Boston Globe via BikePortland: city of Cambridge gives its citizens bike repair stands with tools and air pumps, BikePortland: Newport bicycle shop owner developing an iPhone app for touring the Oregon coast, no bike shops in Lincoln City, many hats, Sunshine Boys vs. Hardy Boys vs. Schwinn Twins, Scholastic books, Arkel panniers, "poo in a bag!" (NOT Arkel panniers – kids say the darndest things), Cadence Press books, You Might Be a Cyclist If…, escaping to Canada, experiences on the road cannot be contrived, places he's been, some cartoons are lame, "the bad does not negate the good," riding with a family, footnotes & "the love story I'd never write," dot com bust & what to do with the rest of your life, no book about Africa, difference between touring alone & touring with family, the Far Side, grasshopper frogger & concerned minivan mom, perspective, fear and Chariot trailers, "Mad Max meets KinderCare," yellow jersey, mileage is less important than great experiences, kids take a different pace, the perfect body, relax and connect, twitter's inanity, Mia Birk & Joyride, livable/scalable communities, 10th Anniversary edition of The Metal Cowboy, Queen & iPhone app
Drinks
Brandon enjoys a Dustin Bagby amber homebrew (possibly to be 10 gallons of wedding drink), Joe drinks tea due to fighting a cold, and Brock thusly must decide between Pabst Blue Ribbon & Deschutes Brewery Cascade Pale Ale.
Music
"I Like My Bike" from Portland, OR band Hurtbird on their 2010 release Nature Vs City.

Fine Print
email us: thesprocketpodcast@gmail.com
twitter: @SprocketPodcast
phone in or SMS: 503-847-9774
web: http://thesprocketpodcast.com
music: Ryan J. Lane (intro & outro) & Hurtbird (headlines)
Podcast: Play in new window | Download