We chat with our friend Brittany about what it's like to be a bicycle commuter in Portland, Oregon, even if you don't go on a lot of special group rides or events.  What are the streets like? How do they facilitate a healthy existence in the city?  Also, we chat about some math and hair concepts.
And it's the return of crowd favorite Dan Flores!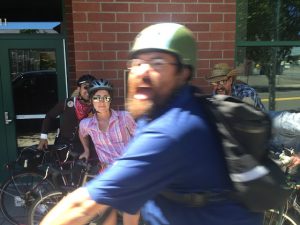 Also: Team Sincerity placed third in Bike Scout!
Calendar
September 10: 50 States & 13 Colonies
September 17: Tour de Brew
October 1: Dr. Something EP, Rustic Machinery release party
Headline
From Aqua: LIFT Turns Most Bikes Into 'Cargo Bikes'
Mail
PBJ Matt wonders if the traffic-straddling bus in China is a fake.
Fine Print
music: Ryan J. Lane (intro & outro) & Hurtbird (headlines)
web: http://thesprocketpodcast.com
email us: thesprocketpodcast@gmail.com
phone/SMS: 503-847-9774
twitter: @SprocketPodcast
Thanks to our sustaining donors for supporting our show costs:
Logan Smith, JohnnyK, Shadowfoot, Kathrina Mellemgaard, Wayne Norman,Doug Robertson, Ethan Georgi, Justin Martin, Eric Iverson, Cameron Lien, Richard Wezensky, Tim Mooney, Orange & Purple, Glenn Kubish, Matt Kelly, Jim Goodin, Eric Weisz, Doug CohenMiller, Todd Parker, Scott McAllister Morgan, Chris Gonzalez, Dan Gebhart, Zoe Campagna, Andy Brunner, Dave Knows, Chris Smith, Christi Caister, Caleb Jenkinson, JP Kewley, Peanut Butter Jar Matt, Patrick Archain, Sebastien Poule, Marco Lo, Rich Otterstrom, Andrew Alderson, Drew the Welder, Anna, Krista, Jon Wasserman, Andre Johnson, Shelly & Troy, Kingof Division, Josh Zisson, Richard G, Guthrie Straw, Christopher Barnett, Branden Shelby, Kampcite, Aaron Green, Mac Nurse David, Kathryn Minchin, Nathan Poulton, Chris Rawson, Rory Closz, Michael Flournoy, Jeremy Kitchen
Podcast: Play in new window | Download