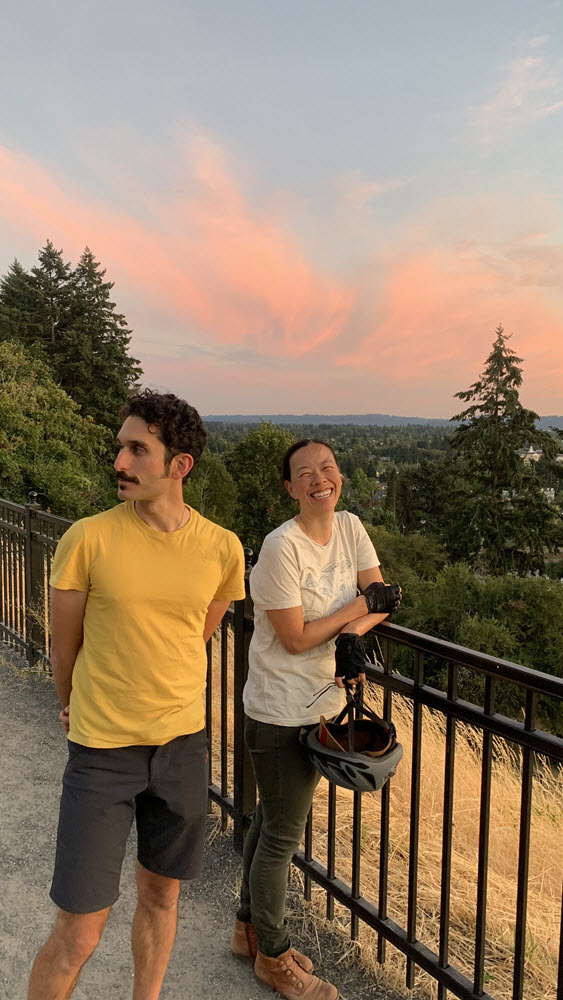 Hami Ramani is a neurologist who has a big interest in making biking safer and reducing the usage of cars. He's now in Portland and seems to be leading a resurgence of active transportation advocacy in the area.
Mail
Jason Aufdenberg says, "Dear Sprocket Podcast, I enjoyed the discussion on bike commuting in EP 571! Like Guthrie, I too am interested if anyone is making bike maps with routes that optimized for shade. One easy upgrade that will make many city bike maps more usable is to make the maps available as a geospatial PDF files. This type of file, on your phone, allows you to see your location on the bike map using only the phone's GPS signal, no internet connection/data plan required. My city, Daytona Beach, has no official bike map so I made one of my own and published it as a free geospatial PDF file that works with the Avenza Maps App. More info on my map here. I'm curious if any other Sprocket Podcast listeners live in places with no official bike map and have made their own maps.
Bradley Bouch told us about the Tour de Tulips in Orange City, Iowa.
FinePrint
Produced at home thanks to:
music: Ryan J. Lane (intro & outro) & Hurtbird (headlines)
graphic design: Marcus Norman
web: http://thesprocketpodcast.com
email us: thesprocketpodcast@gmail.com
phone/SMS: 503-847-9774
Twitter & Instagram: @SprocketPodcast
Donate: Patreon (ongoing), Venmo (one time) or Square Cash (one-time)
Thanks to our sustaining donors for supporting our show costs:
Shadowfoot, Wayne Norman, Cameron Lien, Richard Wezensky, Tim Mooney, Glenn Kubish, Eric Weisz, Doug CohenMiller, Chris Smith, Caleb Jenkinson, JP Kewley, Peanut Butter Jar Matt, Marco Lo, Rich Otterstrom, Drew the Welder, Anna, Andre Johnson, Richard G, Guthrie Straw, Kampcite, Aaron Green, Mac Nurse David, Jeremy Kitchen, David Belais, Tim Coleman, Harry Hugel, E.J. Finneran, Brad Hipwell, Thomas Skadow, Keith Hutchison, Ranger Tom, Joyce Wilson, Ryan Tam, Jason Aufdenberg, Todd Tillinger, David Moore, Todd Groesbeck, Chris Barron, Sean Baird, Simon Paice, Gregory Braithwaite, dudeluna, Emma Rooks, Philip M, Lillian Karabaic, Spartan Dale, Josh Myles, Dennis O'Brien, Sarah G, Adam D, Go Dig A Hole, Beth Hamon, Greg Murphy, Mayra M, Oso, Isaac M, David C, Byron Paterson, Kurstin Graham, Erinne G, Rachel Moline, Jimmy Diesel, Christopher Barnett, and Jonathan Lee.
Podcast: Play in new window | Download