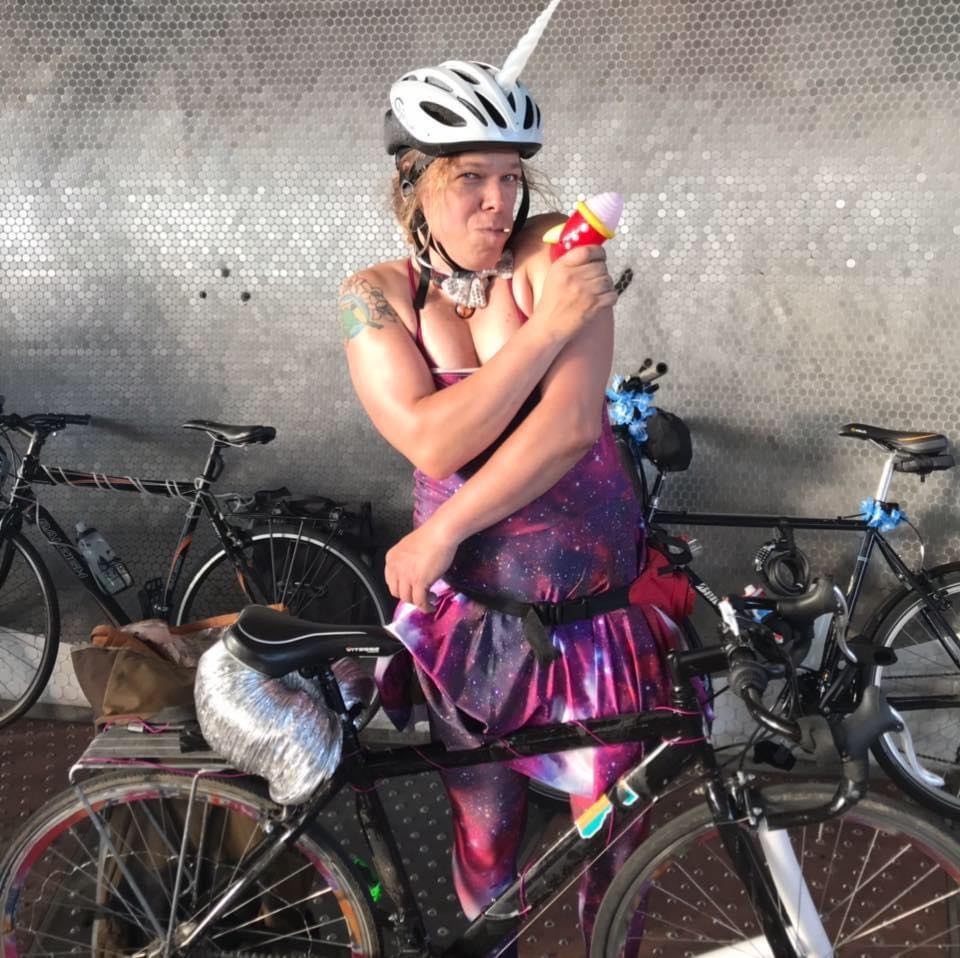 This week we catch up with Polly Bledsoe, bikepacker, polar bear dodger, and pdx ride extraordinaire!
Keep up with the rides in Portland at pdxunityride
What's a microaggression? (link)
Off The Chain Anchorage
Momoko Saunders
HEADLINES
All Bodies on Bikes
"Kailey Kornhauser and Marley Blonsky are on a mission – a mission to change the idea that people in larger bodies can't ride bikes. The duo aims to make cycling more inclusive, beyond just inviting people of all sizes to ride bikes, but by changing the entire idea of what it means to be a cyclist — not just on screens, but on trails and in people's minds." This is a new short film from Shimano. 
EVENTS
Biking for Big People Webinar, April 13 & April 22, 5:30pm PT, led by Marley and Kailey, covers issues of concern to bigger folks on bikes, including gear like types of bikes that work for larger bodies, seat choice, and clothing, and has practical tips for shopping at bike shops, shifting, gears, building endurance, bike fit, pain while riding, and much more. 
Would also be great for folks who lead bike clubs and groups, to think about making your events inclusive to a range of folks. 
MAIL
No mail this week – send us something fun to read perhaps? If you let us know your address Guthrie will send you a handwritten letter with a special drawing.  
EVENTS
Free bike education every 4th Wednesday with Courtney Williams at 6pm Eastern, NYC Bike Mayor, via Zoom – find out more on Instagram at @thebrownbikegirl
Fine Print
Produced at home thanks to:
music: Ryan J. Lane (intro & outro) & Hurtbird (headlines)
graphic design: Marcus Norman
web: http://thesprocketpodcast.com
email us: thesprocketpodcast@gmail.com
phone/SMS: 503-847-9774
Twitter & instagram: @SprocketPodcast
Donate: Patreon (ongoing), Venmo (one time) or Square Cash (one-time)
Thanks to our sustaining donors for supporting our show costs:
Shadowfoot, Wayne Norman, Eric Iverson, Cameron Lien,Richard Wezensky, Tim Mooney, Glenn Kubish, Matt Kelly, Eric Weisz, Doug CohenMiller, Todd Parker, Chris Smith, Caleb Jenkinson, JP Kewley, Peanut Butter Jar Matt, Marco Lo, Rich Otterstrom, Andrew in Colorado, Drew the Welder, Anna, Andre Johnson, Richard G, Guthrie Straw, Kampcite, Aaron Green, Mac Nurse David, Nathan Poulton, Rory in Michigan, Jeremy Kitchen, David Belais, Tim Coleman, Harry Hugel, E.J. Finneran, Brad Hipwell, Thomas Skadow, Keith Hutchison, Ranger Tom, Joyce Wilson, Ryan Tam, Jason Aufdenberg, Microcosm Publishing, David Moore, Todd Groesbeck, Chris Barron, Sean Baird, Simon, Gregory Braithwaite, Ryan Mauro, dudeluna, Matthew Rooks, Marshall, Lillian Karabaic, Paula Funatake, Spartan Dale, Bike Initiative Keweenaw, Sarah G, Adam D, Go Dig A Hole, Beth Hamon, Greg Murphy, Mayra M, Oso, Isaac M, David C, @Five.Oh.Three, Byron Paterson, Kurstin Graham, Erinne G, Rachel Moline, and Jimmy Diesel.
Podcast: Play in new window | Download