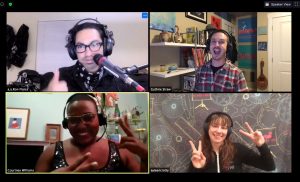 Courtney Williams of The Brown Bike Girl Consulting, who is also the People's Bike Mayor of New York City, partners with local government, nonprofits and institutions to increase bicycling access and adoption within communities of color, and bicycling education for all through initiative planning and facilitation, training, and creative collaboration.  Courtney co-produced the 2020 Hi Vis Film Fest.
Ayleen Crotty is the founder of Filmed By Bike, the organization that partnered to bring the Hi Vis Film Fest to its streaming attendees.  She is also a long-time friend of our show!
Also, Aaron tested negative for COVID-19, and Guthrie checked out the upgraded Portland bike park Gateway Green.
Also, as always, thanks to our nationally recognized "top beer bar in Oregon" beverage sponsor, The Beer Mongers on SE12th and Division, now open for more than 4,000 days consecutively. They have a patio outside the place and, if you're lucky, you might be able to catch some sports with sound.  The big stick remains indoor on the ceiling.  And, as always, thanks to our generous Patreon donors that keep us going!
Mail
Dan Gebhart's sister Rachel writes in.  He will always be a time traveler.
Fine Print
Produced at home thanks to:
music: Ryan J. Lane (intro & outro) & Hurtbird (headlines)
graphic design: Marcus Norman
web: http://thesprocketpodcast.com
email us: thesprocketpodcast@gmail.com
phone/SMS: 503-847-9774
Twitter & instagram: @SprocketPodcast
Donate: Patreon (ongoing), Venmo (one time) or Square Cash (one-time)
Thanks to our sustaining donors for supporting our show costs:
Shadowfoot, Wayne Norman, Eric Iverson, Cameron Lien,Richard Wezensky, Tim Mooney, Glenn Kubish, Matt Kelly, Eric Weisz, Todd Parker, Chris Smith, Caleb Jenkinson, JP Kewley, Peanut Butter Jar Matt, Marco Lo, Rich Otterstrom, Andrew in Colorado, Drew the Welder, Anna, Andre Johnson, Richard G, Guthrie Straw, Kampcite, Aaron Green, Mac Nurse David, Nathan Poulton, Rory in Michigan, Jeremy Kitchen, David Belais, Tim Coleman, Harry Hugel, E.J. Finneran, Brad Hipwell, Thomas Skadow, Keith Hutchison, Ranger Tom, Jce Wilson, Ryan Tam, Jason Aufdenberg, Microcosm Publishing, David Moore, Todd Groesbeck, Chris Barron, Sean Baird, Simon, Gregory Braithwaite, Ryan Mauro, dudeluna, Matthew Rooks, Marshall, Lillian Karabaic, Paula Funatake, Spartan Dale, Bike Initiative Keweenaw, Sarah G, Adam D, Go Dig A Hole, Beth Hamon, Greg Murphy, Mayra M, Oso, Isaac M, David C, @Five.Oh.Three, Byron Paterson, Kurstin Graham, Erinne G, and Rachel M
Podcast: Play in new window | Download