this week we're sharing a portion of an episode recorded with Dan Gebhart (who's a time traveler) in his memory.  The Portland bicycle community lost Dan on September 22 according to an article on BikePortland.org, and we will miss him dearly.  A ride in remembrance is planned for him on Sunday, October 18 at 2pm starting at the Mt. Scott Community Center.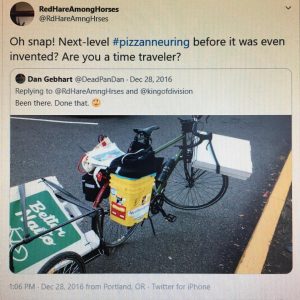 Soren Impey & Dan Gebhart are involved with Bike Loud PDX and drop in to explain why streets don't have to be dangerous to work, and what their organization is doing to catch the attention of Oregon's legislators.  They're riding from Portland to Salem to make their voices heard!
Also: Aaron washes a hat.
Fine Print
Produced at home thanks to:
music: Ryan J. Lane (intro & outro) & Hurtbird (headlines)
graphic design: Marcus Norman
web: http://thesprocketpodcast.com
email us: thesprocketpodcast@gmail.com
phone/SMS: 503-847-9774
Twitter & instagram: @SprocketPodcast
Donate: Patreon (ongoing), Venmo (one time) or Square Cash (one-time)
Thanks to our sustaining donors for supporting our show costs:
Dan Gebhart (who's a time traveler)
Podcast: Play in new window | Download