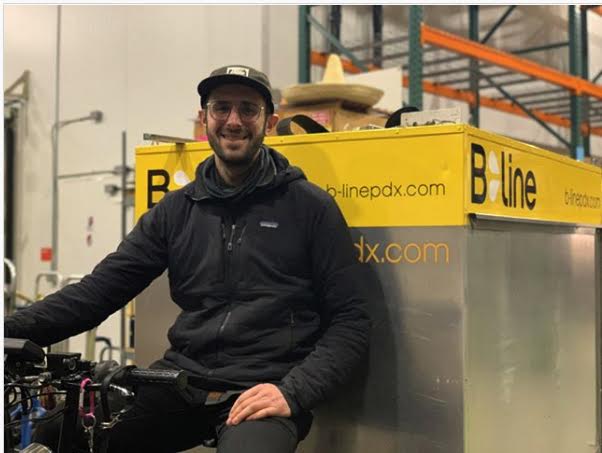 Sam Appelbaum joins us from B-Line Sustainable Urban Delivery!  The cargo-tricycle-based logistics company has a few things up its hard-working sleeves, such as the Greater good box and Green Wheels from local market New Seasons.  Sam also chats about trains, hammocks, COVID-19 era coworking, and the Skyline Tavern Tuesday ride!
Thanks to our nationally recognized "top beer bar in Oregon" beverage sponsor, The Beer Mongers, and, as always, thanks to our generous Patreon donors that keep us going!
Calendar:
NOTE: Due to COVID-19, The Sprocket Podcast is choosing to read only events starting in July or later, however, each week we'll be picking on of our recurring events to showcase and highlight, to get you pumped for when they are able to return. We checked on those we could – please let us know if your event has a date change, and let us know what new events are happening in your area!
July 11 – The Ladd's 500, Fifth First Annual, Portland OR
August 15th – Swift Summit 200/100 V.4 in Lebanon, OR
August 16th – Swift Summit NW Hill Climb (location unknown)
Showcase One! This week – the DC Bike Party!
UPCOMING Filmed By Bike TOUR DATES:
Alvdal, Norway – Sept 4th
Sacramento, CA – Oct 23
Boise, ID January 23
Fine Print
Produced at STREAM PDX thanks to Open Signal
music: Ryan J. Lane (intro & outro) & Hurtbird (headlines)
graphic design: Marcus Norman
web: http://thesprocketpodcast.com
email us: thesprocketpodcast@gmail.com
phone/SMS: 503-847-9774
Twitter & instagram: @SprocketPodcast
Donate: Patreon (ongoing), Venmo (one time) or Square Cash (one-time)
Thanks to our sustaining donors for supporting our show costs:
Shadowfoot, Wayne Norman, Eric Iverson, Cameron Lien,Richard Wezensky, Tim Mooney, Glenn Kubish, Matt Kelly, Eric Weisz, Todd Parker, Dan Gebhart (who's a time traveler), Dave Knows, Chris Smith, Caleb Jenkinson, JP Kewley, Peanut Butter Jar Matt, Marco Lo, Rich Otterstrom, Andrew in Colorado, Drew the Welder, Anna, Andre Johnson, Richard G, Guthrie Straw, Kampcite, Aaron Green, Mac Nurse David, Nathan Poulton, Rory in Michigan, Michael Flournoy, Jeremy Kitchen, David Belais, Tim Coleman, Harry Hugel, E.J. Finneran, Brad Hipwell, Thomas Skadow, Keith Hutchison, Ranger Tom, Joyce Wilson, Ryan Tam, Jason Aufdenberg, Microcosm Publishing, David Moore, Todd Groesbeck, Chris Barron, Sean Baird, Simon, Gregory Braithwaite, Ryan Mauro, dudeluna, Matthew Rooks, Marshall, Lillian Karabaic, Paula Funatake, Spartan Dale, Bike Initiative Keweenaw, Sarah G, Adam D, Go Dig A Hole, Beth Hamon, Greg Murphy, Mayra M, Oso, Isaac M, David C, Five Oh Three
Podcast: Play in new window | Download