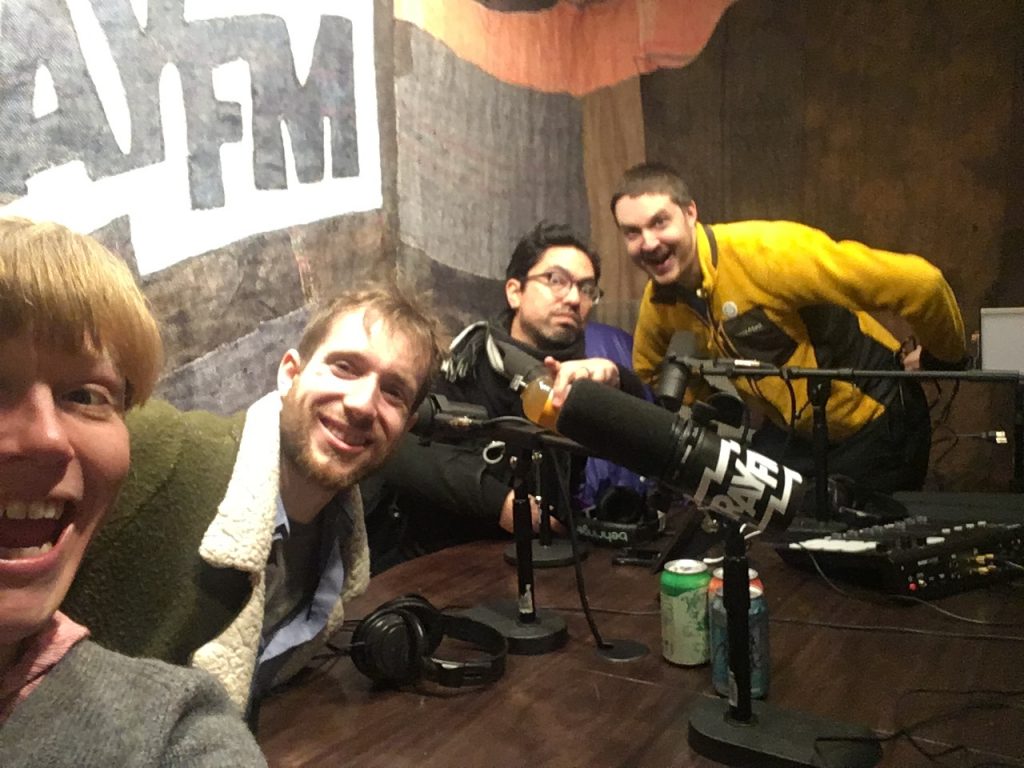 John Carter is the Interim Transportation Demand Management / Active Transportation Specialist and Carrie Cantrell is the Active Transportation Ambassador at Portland Community College.  At an institution of higher learning with four separate campus locations, it can be difficult to imagine getting where you need to be under your own power, but these two are here to make it seem a little more realistic and less daunting.
Thanks to our beverage sponsor, The Beer Mongers, and, as always, thanks to our generous Patreon donors that keep us going! 
Calendar:
Feb 15th – Chariot Wars 2020, Essex City Park
February 27th –  Madi & Maria on Oregon Field Guide, Oregon Public Broadcasting
February 28th – Gladys Bikes Passing the Torch Party! @ Either/OR
March 18th – Oregon Field Guide viewing party at Evolution Fitness, 7pm
May 9 – Mohawk Valley Metric Century, Armitage Park, Eugene OR
June 13 – Hop Head Hundred in Independence, OR
August 15th – Swift Summit 200/100 V.4 in Lebanon, OR
August 16th – Swift Summit NW Hill Climb (location unknown) TT p/b Chamois Butt'r 
2nd Thursday of every month Joyful Rider's Club in Minneapolis
1st Friday of every month SF Bike Party
2nd Friday of Every Month Boston Bike Party
Also, 2nd friday of Every Month Indianapolis Bike Party
Also, Also, 2nd Friday of Every Month East Bay Bike Party
3rd Friday of every month is the San Jose Bike Party
Last Friday of every month: Baltimore Bike Party
The 1st Saturday of every month Civil Unrest Ride in PDX
Every 2nd Sunday of every month in PDX: Corvidae Bike Club Ride
The last Sunday of every month is the Vintage & Classic ride in Huntsville, AL
UPCOMING Filmed By Bike TOUR DATES:
L.A., CA – February 9th
Seattle, WA – Feb 28th
Columbus, OH – March 1st
Idaho Falls, ID – March 5th
Ithica, NY – March 10th
Bend, OR – March 19th
Pittsburg, PA – March 22nd
Bend, OR – April 16th
Sacramento, CA – May 6th
18th Annual – May 14th -> 17th Hollywood Theatre Portland, OR
Crested Butte, CO – June 25th
Alvdal, Norway – Sept 4th
HEADLINES:
From Tim Mooney: DC plans to build 100 off-sidewalk corrals for dockless bikes and scooters in residential zones all across the city in the coming months.
I-5 Rose Quarter "Improvement" Project Seeks Community Advisory Committee members: https://i5rosequarter.org/.
"It is with a heavy heart that we're writing to say, that after 30 years of publishing, Dirt Rag is shutting its doors and ceasing all operations, including the website and Dirt Fest."
MAIL:
(Voicemail) – Tim Mooney
From Beth Hamon – "love this podcast. And all you guys. Thanks for podding 500 times, kids!
From Jay H – PartySparkleremoji PartySparkleremoji 500 MEDALemoji
Sebastian P. – You're only halfway to 1000.
From Steve S.: Simplifying the Good Life…          
Fine Print
Produced at STREAM PDX thanks to Open Signal
music: Ryan J. Lane (intro & outro) & Hurtbird (headlines)
graphic design: Marcus Norman
web: http://thesprocketpodcast.com
email us: thesprocketpodcast@gmail.com
phone/SMS: 503-847-9774
Twitter & instagram: @SprocketPodcast
Donate: Patreon (ongoing), Venmo (one time) or Square Cash (one-time)
Thanks to our sustaining donors for supporting our show costs:
Shadowfoot, Wayne Norman, Eric Iverson, Cameron Lien,Richard Wezensky, Tim Mooney, Glenn Kubish, Matt Kelly, Eric Weisz, Todd Parker, Dan Gebhart (who's a time traveler), Dave Knows, Chris Smith, Caleb Jenkinson, JP Kewley, Peanut Butter Jar Matt, Marco Lo, Rich Otterstrom, Andrew in Colorado, Drew the Welder, Anna, Andre Johnson, Richard G, Guthrie Straw, Kampcite, Aaron Green, Mac Nurse David, Nathan Poulton, Rory in Michigan, Michael Flournoy, Jeremy Kitchen, David Belais, Tim Coleman, Harry Hugel, E.J. Finneran, Brad Hipwell, Thomas Skadow, Keith Hutchison, Ranger Tom, Joyce Wilson, Ryan Tam, Jason Aufdenberg, Microcosm Publishing, David Moore, Todd Groesbeck, Chris Barron, Sean Baird, Simon, Gregory Braithwaite, Ryan Mauro, dudeluna, Matthew Rooks, Marshall, Lillian Karabaic, Paula Funatake, Spartan Dale, Bike Initiative Keweenaw, Sarah G, Adam D, Go Dig A Hole, Beth Hamon, Greg Murphy, Mayra M, Oso, Isaac M
Podcast: Play in new window | Download