Aaron, Guthrie, and friends spent this weekend doing the Crater Lake rim ride in southern Oregon – they'll share details of that trip later, and in honor of this we present Aaron's first appearance on the podcast from 2011 in which he, producer Brock, and Adele share their thoughts on their grueling 2011 tour to the same place.  See you next week for a new studio show!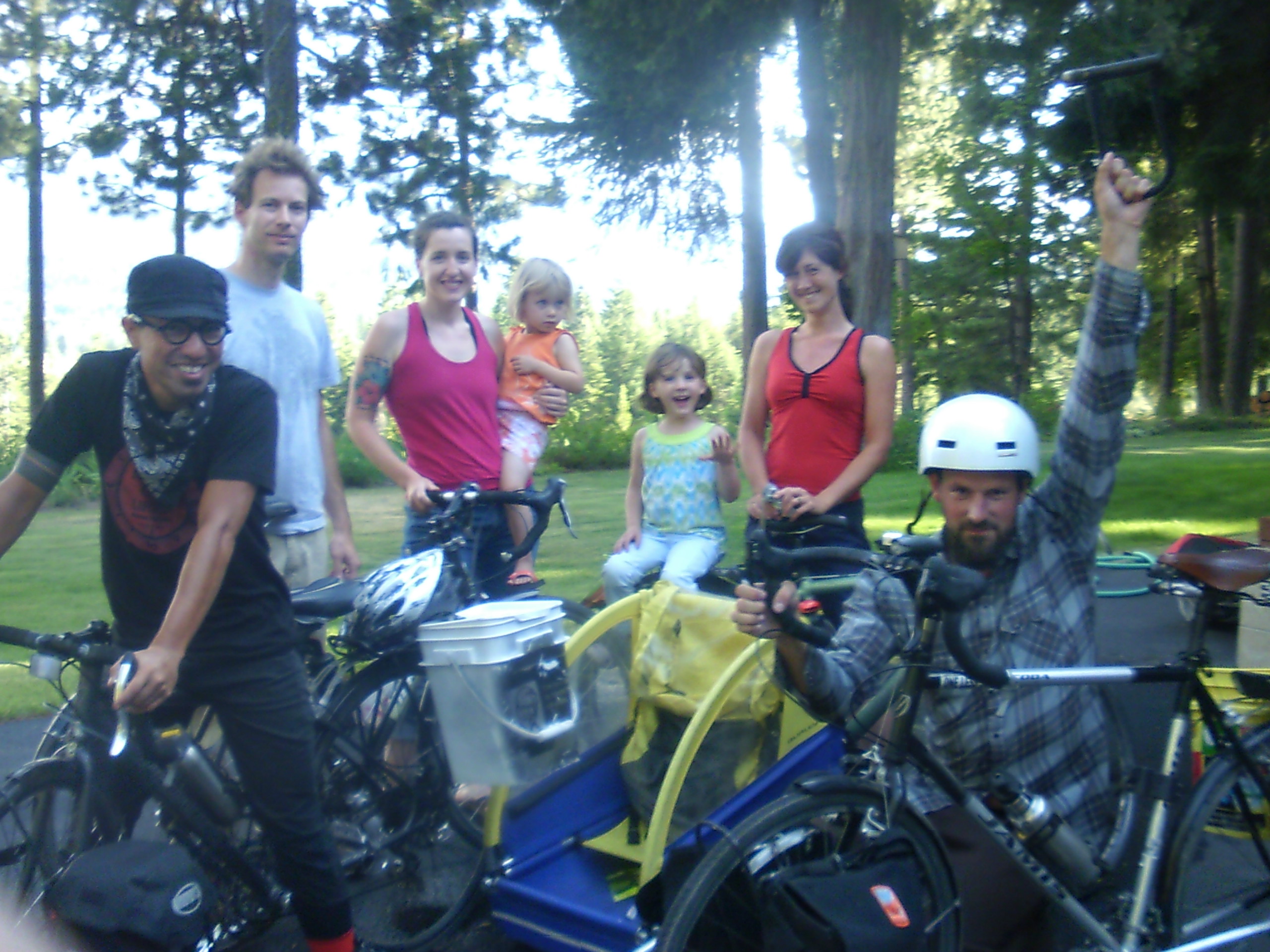 This week we speak with Team Sincerity, the group of people who climbed several mountains with bikes and kids to get to Crater Lake, and all in the name of good fun.  Aaron Flores & Adele Dittus join us in studio, and Adam & Jodie Rust phone from Seattle.  We discuss: beer, soda, and pigeonholing, the origin of Team Sincerity, Warmshowers.org hosts Roger & May, road magic and generosity at Hobo Camp/Club Hobo, sickness and the hill climb from hell, Xanterra's poor customer service, and many other things.
UPDATE 9/29/11: Photos from the trip, which should have been shared some time back!.
Drinks
Brock & Adele drink the fantastically bad Game Day Ice from 7-Eleven, and Aaron drinks a Henry Weinhard's Root Beer.
Fine Print
Produced at STREAM PDX thanks to Open Signal
music: Ryan J. Lane (intro & outro) & Hurtbird (headlines)
graphic design: Marcus Norman
web: http://thesprocketpodcast.com
email us: thesprocketpodcast@gmail.com
phone/SMS: 503-847-9774
Twitter & instagram: @SprocketPodcast
Donate: Patreon (ongoing), Venmo (one time) or Square Cash (one-time)
Thanks to our sustaining donors for supporting our show costs:
Shadowfoot, Kathrina Mellemgaard, Wayne Norman, Eric Iverson, Cameron Lien,Richard Wezensky, Tim Mooney, Glenn Kubish, Matt Kelly, Eric Weisz, Todd Parker, Dan Gebhart (who's a time traveler), Dave Knows, Chris Smith, Caleb Jenkinson, JP Kewley, Peanut Butter Jar Matt, Marco Lo, Rich Otterstrom, Andrew in Colorado, Drew the Welder, Anna, Andre Johnson, Richard G, Guthrie Straw, Kampcite, Aaron Green, Mac Nurse David, Nathan Poulton, Chris Rawson, Rory in Michigan, Michael Flournoy, Jeremy Kitchen, David Belais, Tim Coleman, Harry Hugel, E.J. Finneran, Brad Hipwell, Thomas Skadow, Keith Hutchison, Ranger Tom, Joyce Wilson, Ryan Tam, Derek Waggoner, Jason Aufdenberg, Microcosm Publishing, David Moore, Todd Groesbeck, Chris Barron, Sean Baird, Simon, Gregory Braithwaite, Ryan Mauro, Jimmy Diesel, dudeluna, Matthew Rooks, Marshall, Lillian Karabaic, Paula Funatake, Spartan Dale, Bike Initiative Keweenaw, Sarah G, Adam D, Go Dig A Hole, Beth Hamon, Greg Murphy
Podcast: Play in new window | Download