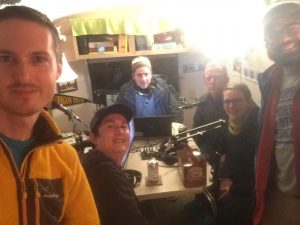 Portland Street Medicine is in the house! We take a moment to catch up with a new (to Portland) method of preventative care for Portlands most vulnerable population, and how it brings together bikes, caregivers, and those in need. Also a special co-host appearance by Tom McTighe while Aaron is away!
Check out Portland Street Medicine here.
As always, thanks to our drink sponsor The Beer Mongers & our generous Patreon donors.
Calendar
2nd Thursday of every month Joyful Rider's Club in Minneapolis
2nd Friday of Every Month Boston Bike Party
Also, 2nd friday of Every Month Indianapolis Bike Party
Also, Also, 2nd Friday of Every Month East Bay Bike Party
Last friday of every month: Baltimore Bike Party
Every 2nd Sunday of every month in PDX: Corvidae Bike Club Ride
November 22: PDX Thanksgiving Dead Streets Ride
Nov. 24: CRANKSGIVING!
Nov. 27: Bike to Winter Woderland "Bike the Lights"
Nov. 29: Brompton Storytime (Minneapolis)
Dec. 2: Reed Ravine Ramble
Dec. 9: Kimmy Cross! (hosted by the Beer Mongers)
Dec.15 and16 Bike Craft
Jan. 8: Bowie Birthday Ride
UPCOMING Filmed By Bike TOUR DATES:
Hood River, OR – December 7
Bendigo, Australia – November 30
Phoenix, AZ – November 17
Boise, ID – January 18
Los Angeles, CA – January 27
Arcata, CA – March 15
Headlines
From adventure-journal.com via Tim Mooney "Ever have these folks on?"
Meet the Club Bringing Bike Adventures to Women of Color + LGBTQ Community
Aaron's note: we've tried but had scheduling conflicts, and I'm not above using this public forum as a way to beg them to come on the show.
Also from Tim Mooney: Bird Says New Scooter Regulations Make It 'Impossible' To Serve D.C.
Aaron's note: while this only affects Washington DC, expect similar anti-scooter legislation to come through other scooter-served cities like PDX
Mail
Dan Gebhart (who's a time traveler) sent tweet –
Bike errand tip: roll up a couple of reusable shopping bags and shove them in a bottle cage. Need to stop at the store, but don't have your panniers with you? No problem! Plop them on your porteur rack, bungee 'em to the back rack, or just sling 'em over a shoulder.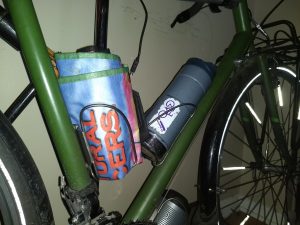 Tim C. via facebook comments on E439
"That was a great show. Had me in tears. What a guest."
Richard Wezensky re: ep. 438
Bike snob = Eben Weiss
Kickstands = Awesome
Fine Print
Produced at STREAM PDX thanks to Open Signal
music: Ryan J. Lane (intro & outro) & Hurtbird (headlines)
graphic design: Marcus Norman
web: http://thesprocketpodcast.com
email us: thesprocketpodcast@gmail.com
phone/SMS: 503-847-9774
Twitter & instagram: @SprocketPodcast
Donate: Patreon (ongoing) or Square Cash (one-time)
Thanks to our sustaining donors for supporting our show costs:
Logan Smith, Shadowfoot, Kathrina Mellemgaard, Wayne Norman, Ethan Georgi, Eric Iverson, Cameron Lien, Richard Wezensky, Tim Mooney, Glenn Kubish, Matt Kelly, Eric Weisz, Todd Parker, Dan Gebhart (who's a time traveler), Dave Knows, Chris Smith, Caleb Jenkinson, JP Kewley, Peanut Butter Jar Matt, Marco Lo, Rich Otterstrom, Andrew in Colorado, Drew the Welder, Anna, Andre Johnson, Richard G, Guthrie Straw, Kampcite, Aaron Green, Mac Nurse David, Nathan Poulton, Chris Rawson, Rory in Michigan, Michael Flournoy, Jeremy Kitchen, David Belais, Tim Coleman, Harry Hugel, E.J. Finneran, Brad Hipwell, Thomas Skadow, Keith Hutchison, Ranger Tom, Joyce Wilson, Ryan Tam, Derek Waggoner, Jason Aufdenberg, Microcosm Publishing, David Moore, Todd Groesbeck, Chris Barron, Sean Baird, Simon, Gregory Braithwaite, Ryan Mauro, Jimmy Diesel, dudeluna, Matthew Rooks, Marshall, Lillian Karabaic, Paula Funatake, Spartan Dale
Podcast: Play in new window | Download