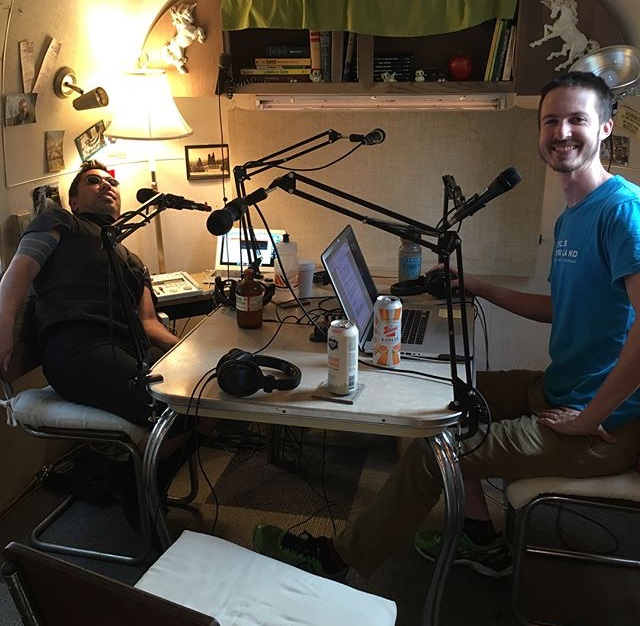 Joan The Librarian has been on our show before to discuss bicycling in Portland, but we wanted to bring her back to talk about her day job working at a library!  How does it work?  What does a librarian do?  What are some myths?  And what book best represents your bicycle?  (We're NOT naming it!)
As always, thanks to our drink sponsor The Beer Mongers & our generous Patreon donors.
Calendar
2nd Thursday of every month Joyful Rider's Club in Minneapolis
2nd Friday of Every Month Boston Bike Party
Also, 2nd friday of Every Month Indianapolis Bike Party
Also, Also, 2nd Friday of Every Month East Bay Bike Party
Last friday of every month: Baltimore Bike Party
Every 2nd Sunday of every month in PDX: Corvidae Bike Club Ride
August 7th National Night Out
August 11: Swift Summit NW come talk with the sprocket on assignment
August 15: E-Scoot P-town Throwdown
August 19: Portland Century
Sept 2: Tour de Lab*
Sept 8-9: Bike MS150
Sept 13: Dr. Something's "Beaverton TC" single release party (transit themed EP in the works)
Sept. 20 Street Books Fall Celebration
Sept. 22: Lowell Kinetic Sculpture Race Lowell, MA
Sept. 29: Wheels On Fire 100, Tucumcari, NM
Nov 9 & 10: Portland Podcast Festival
UPCOMING Filmed By Bike TOUR DATES: (note: many changes and additions)
Snoqualmie, WA – August 24 & 25
Eugene, OR – August 31
Chicago, IL – September 14
Hood River, OR – October 30
Akron, OH – November 4
Arcata, CA – November 15
Bendigo, Australia – November 30
Phoenix, AZ – November 30
Boise, ID – January 18
Headlines
OPB's Think Out Loud gets in on the scooter talk with Cory Poole calling in
Mail
Paul L in Corvalis on aaron's pic of donuts in a Carradice bag
Phil B in AK has joined our not-so-official Strava group
Isaac in NM sent us some audio
Mr. T in MT: I have ridden past this place outside Helena for a year or two.  It always makes me think of Aaron and his "Lionheart" kombucha.
Fine Print
Produced at STREAM PDX thanks to Open Signal
music: Ryan J. Lane (intro & outro) & Hurtbird (headlines)
graphic design: Marcus Norman
web: http://thesprocketpodcast.com
email us: thesprocketpodcast@gmail.com
phone/SMS: 503-847-9774
Twitter & instagram: @SprocketPodcast
Donate: Patreon (ongoing) or Square Cash (one-time)
Thanks to our sustaining donors for supporting our show costs:
Logan Smith, Shadowfoot, Kathrina Mellemgaard, Wayne Norman, Ethan Georgi, Eric Iverson, Cameron Lien, Richard Wezensky, Tim Mooney, Glenn Kubish, Matt Kelly, Eric Weisz, Todd Parker, Dan Gebhart (who's a time traveler), Dave Knows, Chris Smith, Caleb Jenkinson, JP Kewley, Peanut Butter Jar Matt, Marco Lo, Rich Otterstrom, Andrew in Colorado, Drew the Welder, Anna, Andre Johnson, Richard G, Guthrie Straw, Kampcite, Aaron Green, Mac Nurse David, Nathan Poulton, Chris Rawson, Rory in Michigan, Michael Flournoy, Jeremy Kitchen, David Belais, Tim Coleman, Harry Hugel, E.J. Finneran, Brad Hipwell, Thomas Skadow, Keith Hutchison, Ranger Tom, Joyce Wilson, Ryan Tam, Derek Waggoner, Jason Aufdenberg, Microcosm Publishing, David Moore, Todd Groesbeck, Chris Barron, Sean Baird, Simon, Gregory Braithwaite, Ryan Mauro, Jimmy Diesel, dudeluna, Matthew Rooks, Marshall, Isaac, Lillian Karabaic
Podcast: Play in new window | Download