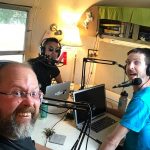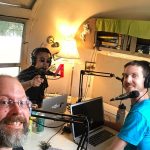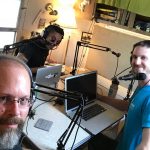 "AFTER 11 YEARS OF MAKING CARGO BIKES, METROFIETS WILL CEASE PRODUCTION AT THE END OF JUNE 2018.
WE HAVE HAD A GREAT RUN AND WANTED TO FINISH ON A STRONG NOTE." -Metrofiets website
Phil Ross is the "co-founder-founder-founder" of Metrofiets. He stops in the studio to talk about the last 11 years of making Portland's own brand of bakfietsen*, what was fun, and what made this journey so amazing for him.
*plural form of bakfiets**
**bakfiets (the term for the kind of cargo bike with the box on the front) is singular in this form. Don't let the "s" on the end fool you.
Calendar
2nd Thursday of every month Joyful Rider's Club in Minneapolis
2nd Friday of Every Month Boston Bike Party
Also, 2nd friday of Every Month Indianapolis Bike Party
Also, Also, 2nd Friday of Every Month East Bay Bike Party
Last friday of every month: Baltimore Bike Party
Every 2nd Sunday of every month in PDX: Corvidae Bike Club Ride
June 23: Petal Pedal*
June 30 – July 1: Ride HiFi's Show and Tell Bike Party
June 30: Cully Park Grand Opening 11am – 4pm
August 7th National Night Out
August 19: Portland Century
Sept 2: Tour de Lab*
Sept 8-9: Bike MS150
Sept. 22: Lowell Kinetic Sculpture Race Lowell, MA
UPCOMING Filmed By Bike TOUR DATES:
Albany, NY – July 22, 2018
Seattle, WA, Vancouver, WA – TBD
Arcata, CA – November, 2018
Bendigo, Australia – October, 2018
Headlines
From streetsblog.org
Brad Lander Bill Would Empower [New York]City to Rein In Repeat Traffic Camera Violators
The "Reckless Driver Accountability Act" aims to flag habitual offenders before they cause irreversible harm.
From bikeportland.org
At North Portland Sunday Parkways there will be a place where everyone can ride
A section of street next to Harper's Playground in Arbor Lodge will be open only for people using adaptive bikes and other assisted devices.
Fine Print
Produced at STREAM PDX thanks to Open Signal
music: Ryan J. Lane (intro & outro) & Hurtbird (headlines)
graphic design: Marcus Norman
web: http://thesprocketpodcast.com
email us: thesprocketpodcast@gmail.com
phone/SMS: 503-847-9774
Twitter & instagram: @SprocketPodcast
Donate: Patreon (ongoing) or Square Cash (one-time)
Thanks to our sustaining donors for supporting our show costs:
Logan Smith, Shadowfoot, Kathrina Mellemgaard, Wayne Norman, Doug Robertson, Ethan Georgi, Justin Martin, Eric Iverson, Cameron Lien, Richard Wezensky, Tim Mooney, Glenn Kubish, Matt Kelly, Eric Weisz, Todd Parker, Dan Gebhart (who's a time traveler), Dave Knows, Chris Smith, Christi Caister, Caleb Jenkinson, JP Kewley, Peanut Butter Jar Matt, Marco Lo, Rich Otterstrom, Andrew in Colorado, Drew the Welder, Anna, Jon Wasserman, Andre Johnson, Josh Zisson, Richard G, Guthrie Straw, Kampcite, Aaron Green, Mac Nurse David, Nathan Poulton, Chris Rawson, Rory in Michigan, Michael Flournoy, Jeremy Kitchen, David Belais, Tim Coleman, Mr. T, Harry Hugel, E.J. Finneran, Brad Hipwell, Thomas Skadow, Keith Hutchison, Ranger Tom, Joyce Wilson, Ryan Tam, Derek Waggoner, Jason Aufdenberg, Microcosm Publishing, David Moore, Todd Groesbeck, Chris Barron, Sean Baird, Simon, Gregory Braithwaite, Ryan Mauro, Jimmy Diesel, dudeluna, Matthew Rooks, Marshall
Podcast: Play in new window | Download