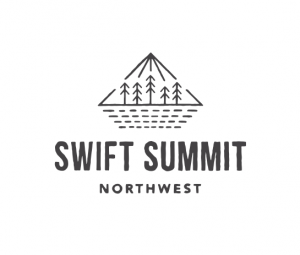 Trevor Spangle organized a new event in Lebanon, Oregon this year, the Swift Summit 200/100, one that he described as "part brevet, part gran fondo, part self-supported endurance road race."  We host a speed-dating-styled roundup of 7 participants on their experiences with the event, including hills, gravel, climbing, heat exhaustion, vomit, and, of course, successful completion.  Many thanks to all of the people who came in to share their stories!  This is definitely one to catch next year.
Also, join You Hear So Deep (A Swift Summit NW Bicycle Community Campout) on October 15 2017!
photo credit Apelbaum Studios
Thanks to our generous sponsor The Beer Mongers and our Patreon donors that keep us going!
Fine Print
Produced at STREAM PDX thanks to Open Signal
music: Ryan J. Lane (intro & outro) & Hurtbird (headlines)
graphic design: Marcus Norman
web: http://thesprocketpodcast.com
email us: thesprocketpodcast@gmail.com
phone/SMS: 503-847-9774
Twitter & instagram: @SprocketPodcast
Thanks to our sustaining donors for supporting our show costs:
Logan Smith, Shadowfoot, Kathrina Mellemgaard, Wayne Norman, Doug Robertson, Ethan Georgi, Justin Martin, Eric Iverson, Cameron Lien, Richard Wezensky, Tim Mooney, Glenn Kubish, Matt Kelly, Eric Weisz, Todd Parker, Dan Gebhart, Zoe Campagna, Dave Knows, Chris Smith, Christi Caister, Caleb Jenkinson, JP Kewley, Peanut Butter Jar Matt, Patrick Archain, Sebastien Poule, Marco Lo, Rich Otterstrom, Andrew in Colorado, Drew the Welder, Anna, Jon Wasserman, Andre Johnson, Josh Zisson, Richard G, Guthrie Straw, Kampcite, Aaron Green, Mac Nurse David, Kathy at Cycling Walking Eating Talking, Nathan Poulton, Chris Rawson, Rory in Michigan, Michael Flournoy, Jeremy Kitchen, David Belais, Tim Coleman, Mr. T, Harry Hugel, Ed Whitman, E.J. Finneran, Paul Culbertson, Brad Hipwell, Thomas Skadow, Keith Hutchison, Ranger Tom, Joyce Wilson, Ryan Tam, Derek Waggoner, Jason Aufdenberg, Microcosm Publishing, David Moore, Dennis O'Brien, Todd Groesbeck, Chris Barron
Podcast: Play in new window | Download