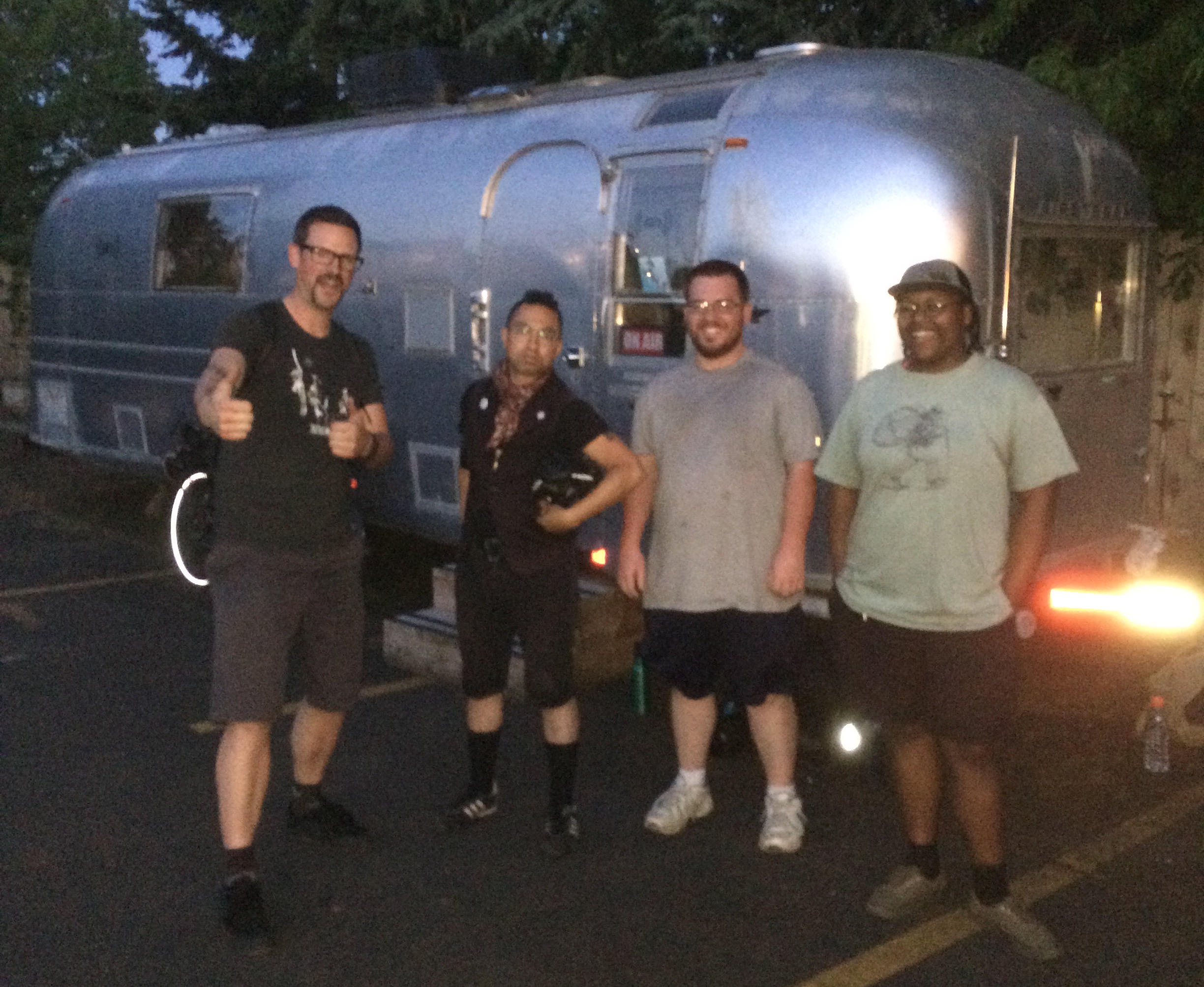 Steven Butler is a long-time friend and coworker of Brock and Aaron who has spent over a year commuting in to Portland from Vancouver, Washington.  We ask him what's to know about crossing the bridge under one's own power.
Superfan Aqua is in to talk about her first solo bike camping trip at L.L. "Stubb" Stewart State Park.  It was awesome, but it was wet!
Aaron almost missed the first Sunday Parkways, and Brock went bike camping.
Thanks to our generous sponsor The Beer Mongers and our Patreon donors that keep us going! You can still vote for The Beer Mongers as your favorite bottle shop in the Willamette Week
Calendar – Be A Part of It!
2nd Friday of every month: Indianapolis Bike Party
May 11- July 2: Vintage Italian Bike Exhibit presented by Brooklyn Velodrome Vintage Wheelmen
May 26-29: Vanport Mosaic Festival
May 28: P-Town Throwdown skateboard race
May 31: Filmed by Bike in Park City, UT
June 1: Pedalpalooza!
June 3: Pioneer Century put together by the Portland Wheelmen Touring Club
June 4: Kyoto City Bikes and Beer (continuing monthly!)
June 6:  Alameda Stair Carry
June 7: Prince4Ever ride
June 8-11: Oregon Ramble
June 10: Clever Cycles turns 10!
June 10: ride with the winemaker
June 11: Dads on Vacation
June 14: Bicycle exsmuss
June 18: Brompton World Championships in NYC
June 24: Women Bike beginners bike camp
June 24: The Gathering at Gateway Green -Featuring Dirt Lab-
July 7: The Steens Mazama 1000
July 15-16: The Seattle-To-Portland
July 29: Pie-a-Thon (with LIVE Sprocket Podcast)
Sept 1: Filmed By Bike in Petosky, MI, Eugene, OR, Seattle, WA, and Charlevoix, MI
Oct 6: The AML_X challenge
Oct 6-8:  Youth Bicycle Summit
Headlines
New Donors! Microcosm Publishing and Tim Coleman, thank you!
From NPR via Ranger Tom via Text: How Did An Obese City Lose A Million Pounds?
From WAMU.org via Tim Mooney: This Guy Rides 28 Miles To The Office — And Not Just On Bike To Work Day
Mail
Heather chimes in on Helmet Debate 2017
Aqua tweets a product notice: a tool for weight weenies!
From a new listener/donor David: however do I give you money?!?
The Joyride Podcast tweets a brockism/sarahism: "It might be a slow bike, but it's faster than dragging yourself around by your lips."
Fine Print
Produced at STREAM PDX thanks to Open Signal
music: Ryan J. Lane (intro & outro) & Hurtbird (headlines)
graphic design: Marcus Norman
web: http://thesprocketpodcast.com
email us: thesprocketpodcast@gmail.com
phone/SMS: 503-847-9774
twitter: @SprocketPodcast
Thanks to our sustaining donors for supporting our show costs:
Logan Smith, Shadowfoot, Kathrina Mellemgaard, Wayne Norman, Doug Robertson, Ethan Georgi, Justin Martin, Eric Iverson, Cameron Lien, Richard Wezensky, Tim Mooney, Orange & Purple, Glenn Kubish, Matt Kelly, Jim Goodin, Eric Weisz, Doug CohenMiller, Todd Parker, Chris Gonzalez, Dan Gebhart, Zoe Campagna, Dave Knows, Chris Smith, Christi Caister, Caleb Jenkinson, JP Kewley, Peanut Butter Jar Matt, Patrick Archain, Sebastien Poule, Marco Lo, Rich Otterstrom, Andrew in Colorado, Drew the Welder, Anna, Krista, Jon Wasserman, Andre Johnson, Josh Zisson, Richard G, Guthrie Straw, Branden Shelby, Kampcite, Aaron Green, Mac Nurse David, Kathy at Cycling Walking Eating Talking, Nathan Poulton, Chris Rawson, Rory in Michigan, Michael Flournoy, Jeremy Kitchen, David Belais, Tim Coleman, Mr. T, Harry Hugel, Ed Whitman, E.J. Finneran, Paul Culbertson, Brad Hipwell, Thomas Skadow, Christopher Barnett, Keith Hutchison, Ranger Tom, Joyce Wilson, Ryan Tam, Derek Waggoner, Jason Aufdenberg, Microcosm Publishing
Podcast: Play in new window | Download