Megan Ramey had a vision to simplify the good trip.  Why fret over car rentals, unfamiliar expressways with angry drivers, and spend half of your time dreading the drives to come when you could explore cities the way they are best experienced – by bike?  She and her family have been living the dream for some time, guiding others into relaxing, human-scaled city tours with their travel guides, and getting there in style on Amtrak.  We get the skinny on Bikabout.
Thanks to our generous sponsor The Beer Mongers and our Patreon donors that keep us going!
Calendar – Be A Part of It!
2nd Friday of every month: Indianapolis Bike Party
March 23: The Timber Trail launch party
March 30: Wolf OR-7 Expedition
April 15: 10am, Ladd's 500
May 5: Filmed By Bike
June 10: Clever Cycles turns 10!
June 11: Dads on Vacation
June 14: Bicycle exsmuss
July 7: The Steens Mazama 1000
July 15-16: The Seattle-To-Portland
Oct 6: The AML_X challenge
Headlines
KPTV: We were on television!  Our feature about Stream PDX
From the Washington Post via Tim Mooney ("Look at DC being all PDXy!"): D.C. wants employers to pay workers not to drive to work
Mail
A series from @oregon_history and @seb_velo on towing an Airstream by bike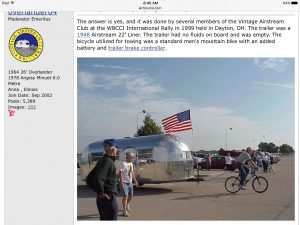 Josh G. captioned our screenshot: "A. wistfully remembers his 1st podcast ever"
A letter of praise from Gregory B., & 2 questions.
A Missive from the Midwest via Keith H. In Indy
Ethan Georgi re: going car-free
Heather on Twitter: "Be nice to your drivers (all the time, not just tmrrw)"
Harry H on Twitter re: @sarahforpdx How the hell did I not know about Arleta Library Bakery and Cafe?
Seb P on aaron flat-tire hell: you might find tire talc helpful with your tire situation.
Ed M. also on flat tires: "The technique is not to let the lever go past 90 degrees when levering the tire on the wheel."

Fine Print
Produced at STREAM PDX thanks to Open Signal
music: Ryan J. Lane (intro & outro) & Hurtbird (headlines)
graphic design: Marcus Norman
web: http://thesprocketpodcast.com
email us: thesprocketpodcast@gmail.com
phone/SMS: 503-847-9774
twitter: @SprocketPodcast
Thanks to our sustaining donors for supporting our show costs:
Logan Smith, Shadowfoot, Kathrina Mellemgaard, Wayne Norman, Doug Robertson, Ethan Georgi, Justin Martin, Eric Iverson, Cameron Lien, Richard Wezensky, Tim Mooney, Orange & Purple, Glenn Kubish, Matt Kelly, Jim Goodin, Eric Weisz, Doug CohenMiller, Todd Parker, Chris Gonzalez, Dan Gebhart, Zoe Campagna, Dave Knows, Chris Smith, Christi Caister, Caleb Jenkinson, JP Kewley, Peanut Butter Jar Matt, Patrick Archain, Sebastien Poule, Marco Lo, Rich Otterstrom, Andrew in Colorado, Drew the Welder, Anna, Krista, Jon Wasserman, Andre Johnson, Josh Zisson, Richard G, Guthrie Straw, Branden Shelby, Kampcite, Aaron Green, Mac Nurse David, Kathy at Cycling Walking Eating Talking, Nathan Poulton, Chris Rawson, Rory in Michigan, Michael Flournoy, Jeremy Kitchen, David Belais, Tim Coleman, Mr. T, Harry Hugel, Ed Whitman, E.J. Finneran, Paul Culbertson, Brad Hipwell, Thomas Skadow, Christopher Barnett, Keith Hutchison, Tom Benenati
Podcast: Play in new window | Download