Cory Poole returns to talk about what it's like to travel with a skateboard in a new city, whether that's his recent trip to San Diego or your upcoming trip to Portland.  How does it work as you try to find your way around?  What should you know before you go?  We also chat a bit about skating with a young child in the city and what the law requires of us.
Also: Aaron and Anna "lived the revolution" and Aaron received a lot of hugs. Brock rented a car2go for a long trip when another option fell through.
Thanks to our generous sponsor The Beer Mongers and our Patreon donors that keep us going!
Calendar – Be A Part of It!
February 25: Open Signal, Portland Community Media Open House
February 26: Chilly Hilly ride in Seattle
February 27: Menagerie In Motion Kinetic Derby, Gainesville FL
March 11: The Dalles Mountain 60!
March 23: The Timber Trail launch party
April 15: 10am, Ladd's 500
May 5: Filmed By Bike
June 11: Dads on Vacation
June 14: Bicycle Chrissmus
July 7: The Steens Mazama 1000
Headlines
The Washington Post via Chris R.: 'Every second counts.' Cities turn to cyclists to save lives
Inside Science: Driving Fee Rolls Back Asthma Attacks in Stockholm
Who-Sent-Whom
Pedalshift: 2     Sprocket: 0     Bicycle Times: 1
Mail
Alexis replies to Johns comment on E331
Mac Nurse David joins Team Sincerity for Ladds 500
Harry H. has pixies recommendations for Brock
Josh G is safety-conscious while expanding his mind, and found a disaster TV show that starts with a bicycle scene.
Russell P has been listening since E005 and is the son of a lorry driver (who are required to bike for greater empathy).
Sebastien Poole has listened to all episodes! "…hooked me way back when Retroshift was on. Later, I went back to the archives and gobbled up the rest."  And: "Devo themed rides do happen"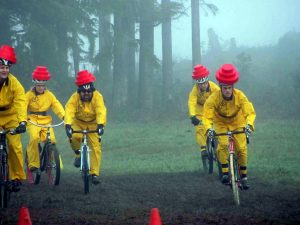 From listener Jay: "Screw victim blaming from non cyclists and cyclists alike."
Keith is a new listener. Welcome to the fold Keith!
Lastly, our senior bear-pelt correspondent gives us the what is the what.
Fine Print
music: Ryan J. Lane (intro & outro) & Hurtbird (headlines)
graphic design: Marcus Norman
web: http://thesprocketpodcast.com
email us: thesprocketpodcast@gmail.com
phone/SMS: 503-847-9774
twitter: @SprocketPodcast
Thanks to our sustaining donors for supporting our show costs:
Logan Smith, Shadowfoot, Kathrina Mellemgaard, Wayne Norman, Doug Robertson, Ethan Georgi, Justin Martin, Eric Iverson, Cameron Lien, Richard Wezensky, Tim Mooney, Orange & Purple, Glenn Kubish, Matt Kelly, Jim Goodin, Eric Weisz, Doug CohenMiller, Todd Parker, Chris Gonzalez, Dan Gebhart, Zoe Campagna, Dave Knows, Chris Smith, Christi Caister, Caleb Jenkinson, JP Kewley, Peanut Butter Jar Matt, Patrick Archain, Sebastien Poule, Marco Lo, Rich Otterstrom, Andrew in Colorado, Drew the Welder, Anna, Krista, Jon Wasserman, Andre Johnson, Josh Zisson, Richard G, Guthrie Straw, Branden Shelby, Kampcite, Aaron Green, Mac Nurse David, Kathy at Cycling Walking Eating Talking, Nathan Poulton, Chris Rawson, Rory in Michigan, Michael Flournoy, Jeremy Kitchen, David Belais, Tim Coleman, Mr. T, Harry Hugel, Ed Whitman, E.J. Finneran, Paul Culbertson, Brad Hipwell, Thomas Skadow
Podcast: Play in new window | Download