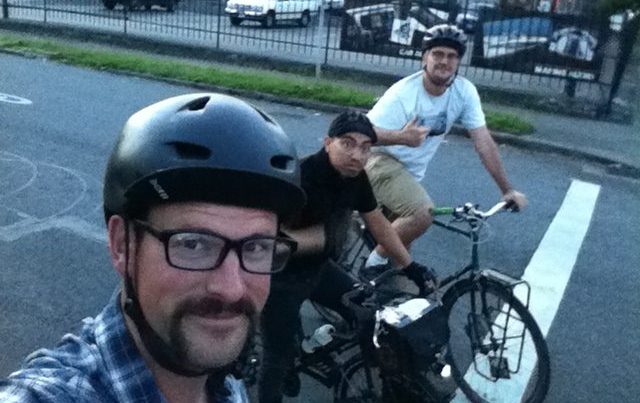 Brian Sysfail returns after a too-long-time to chat with us about Portland Autonomous Zone (PAZ), skillsharing, and the many great opportunities that Portland's season of bike fun brings with the advent of Pedalpalooza!  We discuss how to lead or participate in a group ride, some etiquette points, and the politics of cameras.
Also: Brock rode 100 miles in 100 degrees, and Aaron rode a brompton around the horse track.
And: lots of E300 goodies! Monologues, Heinz Stücke, Brother Dan, &Mechanic Dudebro.
Thanks to our generous sponsor The Beer Mongers and our Patreon donors that keep us going!
Calendar
June 10: The Little Lebowski Urban Achiever Ride
June 11: Grilled By Bike!
June 11: The Last Bowie/Prince Ride
June 15: Biking Vikings!
June 18: The 3rd Annual Bike Mechanic Challenge! (SOLD OUT!)
June 21: The Pollen Ride! (NEW DATE)
July 16: Brompton Urban Challenge!
Headlines
From the Salt Lake Tribune: Unique internship: Travel 10,000 miles in 38 days in 15 states
From bikeportland.org: BTA will change name, expand mission to walking, transit and political action
Mail
from Kampcite:  "No. You definitely should not pee in the shower."
Tim Mooney: "We need more ironic dudebro episodes… Basically this could be its own show."
From PBJ Matt: Comes With Baggage, the documentary.
Orange is able to hook up a friend with LA bike camping knowledge!
Jim rode 73 miles!
Fine Print
music: Ryan J. Lane (intro & outro) & Hurtbird (headlines)
web: http://thesprocketpodcast.com
email us: thesprocketpodcast@gmail.com
phone/SMS: 503-847-9774
twitter: @SprocketPodcast
Thanks to our sustaining donors for supporting our show costs:
Logan Smith, JohnnyK, Shadowfoot, Kathrina Mellemgaard, Wayne Norman,Doug Robertson, Ethan Georgi, Justin Martin, Eric Iverson, Cameron Lien, Richard Wezensky, Tim Mooney, Orange & Purple, Glenn Kubish, Matt Kelly, Jim Goodin, Eric Weisz, Doug CohenMiller, Todd Parker, Scott McAllister Morgan, Chris Gonzalez, Dan Gebhart, Zoe Campagna, Andy Brunner, Dave Knows, Chris Smith, Christi Caister, Caleb Jenkinson, JP Kewley, Peanut Butter Jar Matt, Patrick Archain, Sebastien Poule, Marco Lo, Rich Otterstrom, Andrew Alderson, Drew the Welder, Anna, Krista, Jon Wasserman, Andre Johnson, Shelly & Troy, Kingof Division, Josh Zisson, Richard G, Guthrie Straw, Christopher Barnett, Branden Shelby, Kampcite, Aaron Green, Mac Nurse David, Kathryn Minchin, Nathan Poulton, Chris Rawson, Rory Closz
Podcast: Play in new window | Download