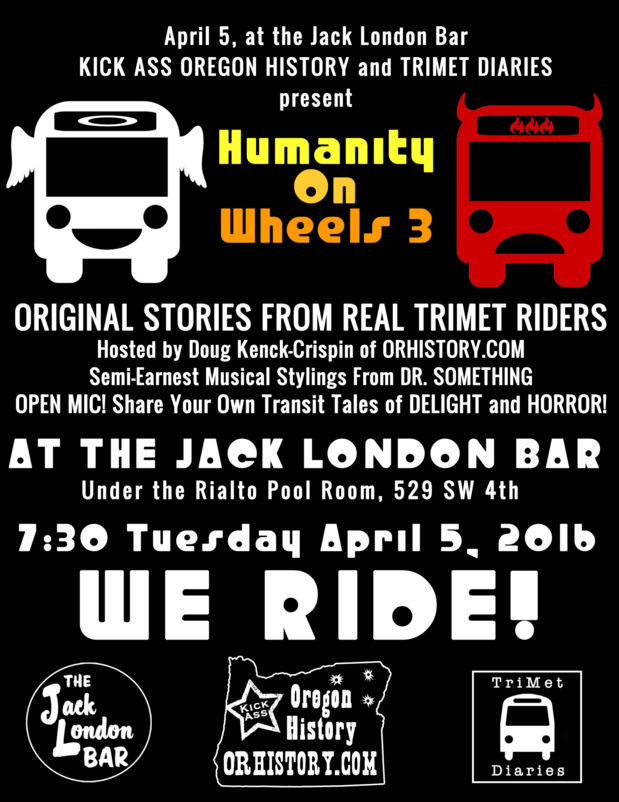 Kick Ass Oregon History
 and
TriMet Diaries
are proud to announce our third installment of Portland Mass Transit Stories, which we are calling "Humanity on Wheels 3!" Previously labeled "TriMet's Woodstock," this live story telling event took place on
April 5th, 2016
at
The Jack London Bar.
Selected story tellers opened the evening. Dan Christensen, William Reagan, Aaron Flores, Dr. Jeff and Heather Goguen all shared stories of riding TriMet. Then, the master of ceremonies, KAOH's Doug Kenck-Crispin introduced an Open Mic section of the program, where audience members shared their own Portland Mass Transit stories!
For the audience's enjoyment, we also offered musical interludes provided by
Dr. Something
 (who's songs include "Beaverton TC" and "Shitsplosion at the Lloyd Center Macy's"). AND we enjoyed viewing vintage TriMet training films and advertisements that we obtained from the agency's archives!
A big thank you to Heather Goguen for the graphic design! AND to Matthew Cowan at the Oregon Historical Society for assisting with the vintage film transfer.
Thanks to ghost host
Andy Lindberg
for voicing this week's introduction!
Podcast: Play in new window | Download