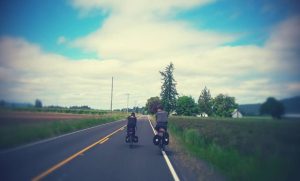 This week we catch up on Brock and Aaron. Both arriving home from their prospective trips abroad. Brock talks about diving into the deep end of the pool that is Mtn Bike Oregon and Aaron wonders if he could've got a bubble machine.
Welcome home Brock, and happy birthday!
Thanks to our beverage sponsor, The Beer Mongers (don't forget to look for the photoset of the cyclocross team), and, as always, thanks to our generous Patreon donors that keep us going!
note: there was some software issues. Aaron lost all the original audio and had to use our backup file. He didn't have much time to edit it, but he got something resembling an episode.
headlines
from momentummag.com: Can Bike Lanes Connect Divided Communities?
from la.streetsblog.org: Man is Shot and Killed by the Officers He Called to Help Search for Stolen Bike. Is it a Livable Streets Issue?
from bikeportland.org: What's happening on SE Clinton? New traffic data tells the story
Fine Print
music: Ryan J. Lane (intro & outro) & Hurtbird (headlines)
web: http://thesprocketpodcast.com
email us: thesprocketpodcast@gmail.com
phone/SMS: 503-847-9774
twitter: @SprocketPodcast
mail things to:
Brock Dittus/The Sprocket Podcast
℅ IPRC
1001 SE Division St
Portland OR 97202
Thanks to our sustaining donors for supporting our show costs:
Logan Smith, JohnnyK, Shadowfoot, Kathrina Mellemgaard, Wayne Norman, Doug Robertson, Ethan Georgi, Justin Martin, Eric Iverson, Cameron Lien, Richard Wezensky, Tim Mooney, Orange & Purple, Glenn Kubish, Matt Kelly, Jim Goodin, Eric Weisz, Doug CohenMiller, Todd Parker, Scott McAllister Morgan, Chris Gonzalez, Dan Gebhart, Zoe Campagna, John Blood, Alison Wiley, Andy Brunner, Dave Knows, Lars V., Chris Smith, Christi Caister, Caleb Jenkinson, JP Kewley, Peanut Butter Jar Matt, Patrick Archain, Gabriel Trainer, Sebastien Poule, Marco Lo, Rich Otterstrom, Andrew Alderson, Drew the Welder, Anna Olsen, Marco Lo, Rich Otterstrom, Andrew Alderson, Krista Skucas, Jon Wasserman, Andre Johnson
Podcast: Play in new window | Download