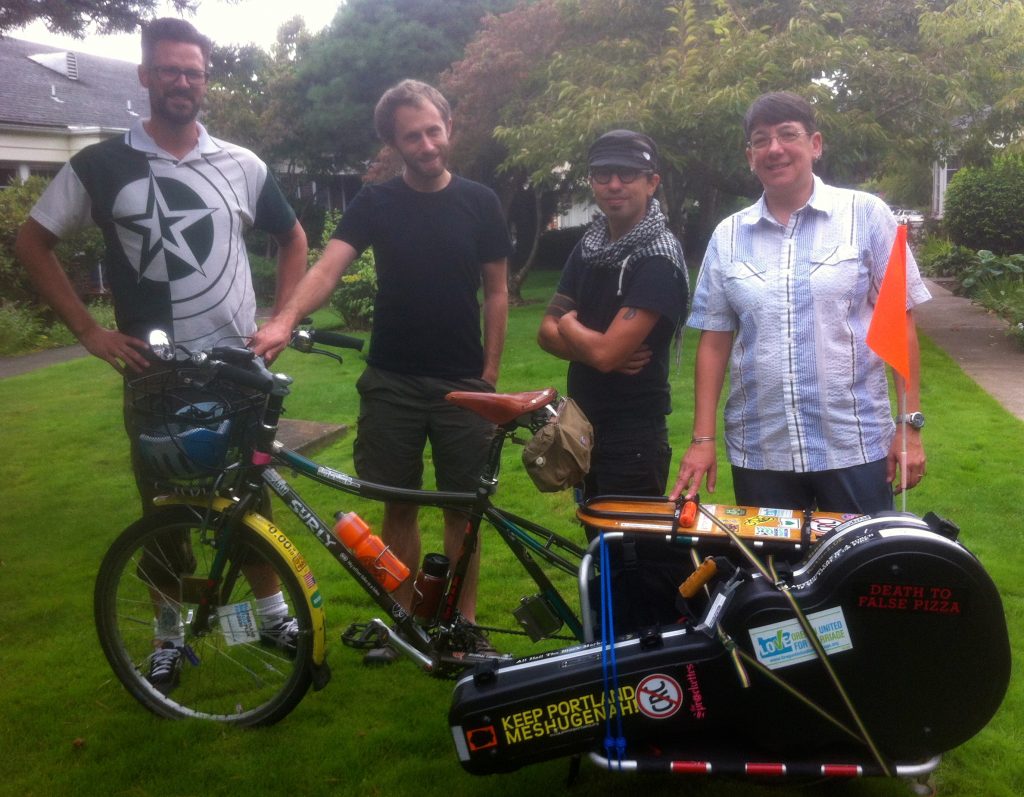 Beth Hamon is a musician who plays "Jewish music for the rest of us," and is a big supporter of Portland's bicycle culture and the utility of bicycles in general.  She joins us today to share some stories, songs, and heartfelt spirituality.
Beth mentioned these reads:
Energy & Equity, by Ivan Illich
The Jaunt, by Stephen King
Brock, Aaron & Brandon also discuss dental problems, stream cleanups, and weight loss.
Mail
JohnnyK writes in on several episodes with his take: E143 with Dan Flores: "This has got to be one of the funniest episodes ever!" and E144 with Cory Poole and the legality of street skating.
Cory responds with an upbeat take on the skateboarding as transportation trend.
Phoebe writes in to comment on Tim Mooney's episode, in which we mention Washington DC's bikeshare program; her experience with bikeshare changed her outlook on the city!
Steve in WY clears up the german tire company's pronunciation for us.
Rance wrote: "Here is a video for the Follow Me Tandem that you guys talked about."
Aaron's brother Tito was highly amused by E143, as was their mom.
Oh, and Marcus, that egg/avocado recipe bakes at around 425º!
Headlines
Cycle Wild: new website offers more resources to discover Oregon camping options
BikePortland: Opening day fire causes serious damage at the Bike Farm
And lastly, Brandon Rhodes finds the Noomad!
Fine Print
email us: thesprocketpodcast@gmail.com
twitter: @SprocketPodcast
phone in or SMS: 503-847-9774
web: http://thesprocketpodcast.com
music: Ryan J. Lane (intro & outro) & Hurtbird (headlines)

Podcast: Play in new window | Download