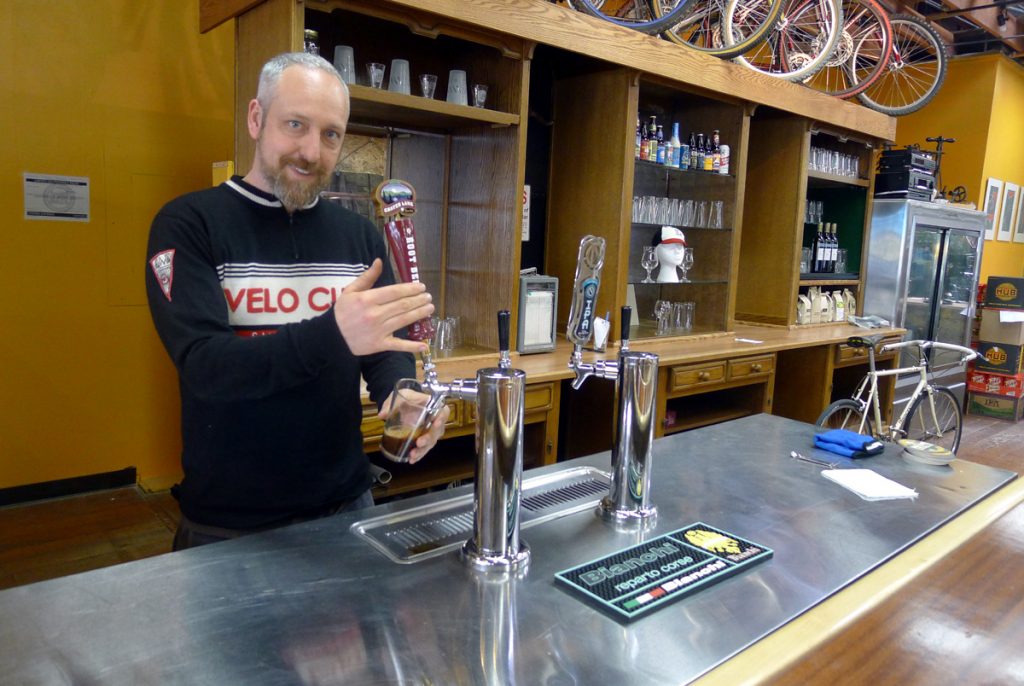 photo by beervanabuzz.com
Sky Boyer is the genius behind Portland's unique bicycle shop and tavern, Velo Cult, a common space that is open late for business and amenable to events and impromptu gatherings.  He welcomed us into the seemingly unending space in their Hollywood district location to chat about his philosophy on bicycles and business.  We discuss: weddings, the "man-cave" beginnings of the shop, moving to Portland and becoming a cultural epicenter, touring (particularly off-road), his experience in racing, the dearth of mountain bike access in Portland, the region's unique climate, San Diego's negative aspects, the danger and excitement of the velodrome, the future of Velo Cult, and the artistic side of a talented employee.
A little more audio of our conversation with Sky can be heard here.
Brock & Aaron also discuss drunk texts, itunes, Steph & Ed's move by bike, andGigantic Brewing.
Headlines
fastcodesign.com via Brandon: The Growler Bike is designed around beer transport
Mail
JohnnyK comments on stickers and notes that a cargo bucket is a good place to display them.  Does the bucket rattle, and is it stable? (great directions here)
and lastly, on Piscataquis Village: Reminds him of St. Petersburg FL's pre-colonial section and would be a "utopia", and asks: Wouldn't connected buildings increase the fire hazard?
Tracy Gayton responds that buildings would need to be built meeting a certain level of fire resistance.  Additionally he adds that a donor was inspired to pledge to the project.  As a postscript, he corrects Aaron on Maine counties.
Fine Print
email us: thesprocketpodcast@gmail.com
twitter: @SprocketPodcast
phone in or SMS: 503-847-9774
web: http://thesprocketpodcast.com
music: Ryan J. Lane (intro & outro) & Hurtbird (headlines)

Podcast: Play in new window | Download